Thousands demonstrate in Deraa as frustration mounts at Bashar al-Assad's failure to deliver reforms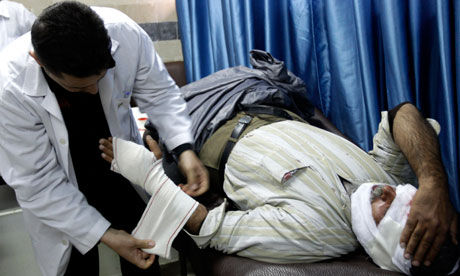 Security forces fired shots and used teargas to disperse up to 4,000 protesters in the volatile Syrian city of Deraa on Monday as frustration mounted at the slow pace of promised reforms.
Despite the widespread presence of security forces, protesters appeared to consolidate their positions in Deraa in the deep south and in the northern port city of Latakia, which are the two main fronts in the challenge to the Syrian regime.
According to human rights activists, more than 150 people have been killed in 11 days of unrest, which have seen protesters calling for increased freedoms.
Syria's president, Bashar al-Assad, who has not been sighted during the protests, is expected to deliver a speech within days.
The government has pledged to lift an almost five decade old emergency law, which - among other things - severely limits citizens' rights to demonstrate. That and other reforms are yet to be implemented.
A witness said demonstrators in Deraa had converged on a main square chanting "no to emergency laws".
Speaking on Lebanese Hezbollah's al-Manar television, the vice-president, Farouq al-Sharaa, a reform-minded member of the government from Deraa, said president Bashar al-Assad would announce decisions that will "please the people" in the next 48 hours.
On Sunday, Turkey's prime minister, Recep Tayyip Ergdogan, said he had urged Assad to "listen to the voice of the people", while US secretary of state Hillary Clinton said both parties in the US Congress believed Assad was a "reformer".
In the past few years, Turkey and Syria have enjoyed good relations, with Syria seeking Turkish support as a counterweight to US support for Israel.
Syrian activists expressed anger at Clinton's comments and a lack of trust that reforms would be introduced.
The government has announced small reforms and pledges of bigger changes but so far no concrete proposals to enhance freedoms have been made.
"There are so many conflicting messages," said a civil rights activist in Damascus. "The government said there would not be violence any more and that there is a decision to lift emergency law, but they are still arresting so many people and blaming unrest on outside interference. They need to address the problems as they are and put solutions soon if they really want to rally unity."
Other activists said they did not believe any reforms would be made, while some claimed any reforms would not be enough. "Serious reforms won't be made because they would involve sacrificing people in the narrow circle around Assad," said Ziad Malki, a Syrian activist exiled in Switzerland.
He pointed to Rami Makhlouf, the cousin of the president who has been a target of protesters' ire over allegations that his interests have been acquired through corruption.
"Bashar al-Assad could be a very nice person, but it doesn't matter: we want a democratically elected president," said Ausama Monajed, a Syrian activist in the UK who has been circulating a daily email of information on the continuing unrest.
The differing views highlight the lack of clarity about the demands of the various protesters and activists. Political organising has been almost impossible in the country, causing many activists and opposition figures to go into exile.
There is also confusion about those responsible for the deaths of protesters in Latakia on Friday and Saturday.
The government claimed gangs carried out the violence but some activists said the gunmen were controlled by the government.