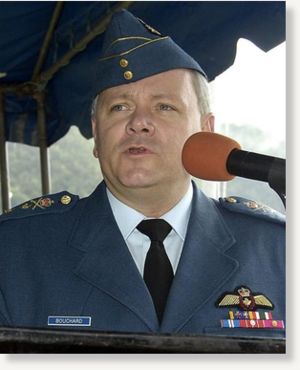 Canadian general Charles Bouchard is taking over command of NATO's military operations in Libya.
Bouchard, a native of Chicoutimi, Que., has been designated by NATO as head of the alliance's campaign in Libya. He will work with "his naval and air component commands" to enforce the no-fly zone and the so-called civilian-protection mission in Libya, a senior White House official said Friday.
Bouchard, a lieutenant-general whose rank is equivalent to a three-star U.S. general, is currently stationed in Naples, Italy, at the Allied Joint Force Command.
His appointment did not come without considerable debate among the allies. "There were a lot of egos involved," a Canadian government source said.
The source said a British general was touted for the job at one point, but the United States wanted to see a face that nervous allies _ particularly the Turks _ trusted. The tipping point came when the French got behind the appointment, senior Canadian officials said.
There was some political hesitation in Ottawa about the appointment as it represents an escalation of Canada's engagement in Libya just as politicians are about to hit the hustings, the source said.
The decision means Canada will have to dispatch a handful of staff officers to work with Bouchard in Naples.
Before his current job, Bouchard was deputy commander of NORAD, reporting to an American general.
Bouchard studied at the University of Manitoba and joined the Canadian Armed Forces in 1974, graduating in 1976 as a helicopter pilot.
Among his many postings, Bouchard once served with the U.S. Army at Fort Hood, Texas.
The international coalition confronting Libyan leader Moammar Gadhafi has agreed to put NATO in charge of enforcing the no-fly zone. It was still trying to hammer out a deal to relieve U.S. forces of command of all military operations in the country.
U.S. President Barack Obama and Defence Secretary Robert Gates both said earlier this week that American command of the operations would last only a few days.
American officials say Secretary of State Hillary Rodham Clinton reached a preliminary agreement on Thursday with her counterparts from Turkey, France and Britain. But Turkey raised last-minute objections, the
Washington Post
reported.