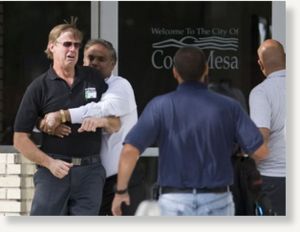 A city worker jumped off the roof of Costa Mesa City Hall this afternoon and died about an hour after he was called in to get his layoff notice.
About 3:20 p.m. the man jumped from the fifth floor of the building. Police said the man, who has not yet been identified pending notification of his family, was a 29-year-old maintenance worker with the city.
Two witnesses saw the man jump and attempted to help him after he landed.
The man, whom the
Register
is not identifying until next of kin has been notified, was pronounced dead at the scene.
The employee, who had been at home with a broken ankle, was not supposed to work today, but he was called in about 2:30 p.m. to receive his layoff notice.
The employee was not married and did not have children, although he had an extended family he helped support, according to two of his coworkers.
"This is a tragic event for the city and all of its employees," Lt. Bryan Glass said. "The city is concerned for their wellbeing and making efforts to help them through this."
Police taped off a large portion of the parking lot on the east side of City Hall.
Helen Nenadal of the Costa Mesa Employees Association said, "He was an outstanding guy with many talents who always goes above and beyond."
Nenadal, who was the man's supervisor, criticized the city's layoffs and said the city was not concerned about the health and safety of its employees.
"You can't do this so fast and think that there's not going to be repercussions," she said.
A city employee charged after Councilmen Jim Righeimer and Stephen Mensinger with his arm cocked. Three coworkers restrained the man just outside the door to City Hall.
Another city employee muttered, "You're not welcome here," referring to the councilmen.
Nick Berardino, general manager of the Orange County Employees Association, was seen cursing out city CEO Tom Hatch in the lobby of City Hall.
"You cannot give out notices wholesale like that in this economy," Berardino said. "That's what's going to happen."
Peter Naghavi, director of public works, was crying and consoling other city employees throughout the afternoon.
Other employees stood around dumbstruck, unsure of what to do.
Counselors were brought in to provide assistance.
Hatch offered his condolences to the family, although they had not yet been notified by the Coroner's office.
"I'm so, so sorry this happened," he said, his voice catching. "My thoughts and prayers go out for his entire family as well as for our city employees and the entire community."
The City Council voted earlier this month to outsource 18 city services. The city started handing out pink slips Thursday; around 213 of the city's 472 employees were to have been notified by the end of the day.
The city was facing a $1.4 million budget deficit in the current year, and rising pension costs in the near term.
Co-authors: Angela Potter and Jon Cassidy