"Family kidnapped, forced to sign pardon letter'" - Pakistan in shock
"Pakistan's government has sold out the pride of the nation" Imran Khan
CIA contractor Raymond Davis was released by Punjab officials after a reported deal was negotiated with the families of the two men he was accused of murdering. Davis was scheduled to be indicted for murder charges today. Security forces picked up the families last night.
A payment estimated a $2 million was made to secure the release. The families are still in police custody. Davis is now at an undisclosed location, rumored to be Bagram Air Force Base in Kabul.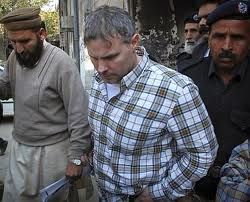 The Real Story
Press stories are largely inaccurate and incomplete. This is what actually happened according to high ranking sources in the Punjab police and government officials who wish to remain anonymous.
Tonight, Afzal, the uncle of Shumaila, the widow of one of the slain men who had committed suicide, went on Pakistani television. He told the audience, moments ago:
Family members were told they were being taken to the police station to make statements. Instead, they were taken to a secret location and held in isolation and told that unless they signed a letter pardoning Davis, "you will never see daylight."
Background
Senator John Kerry flew to Pakistan on February 16, 2011. He met with Punjab's ruling duo, Chief Minister Shahbaz Sharif and his brother Nawaz Sharif, heads of the PML, Pakistan Muslim League. Kerry announced that the release would occur in a few days, although families refused to meet with him.
Shah Mahmood Qureshi, the former Foreign Minister resigned in protest but refused to grant diplomatic immunity to a criminal and a terrorist Raymond Davis. Today in press conference Qureshi said with pride that he stands vindicated for his decision.
Rana Sanaullah the Punjab Law Minister played the lead role. Sources in Pakistan indicate that government and police officials in Punjab received millions in CIA payoffs in the deal.
Both PML leaders, the brothers Shahbaz and Nawaz Sharif, left Pakistan for London earlier this week, making sure they were out of the country after brokering the deal.