A helicopter crashed into a Raytheon Space and Airborne Systems warehouse in El Segundo this morning, causing an intense fire and severely injuring the pilot.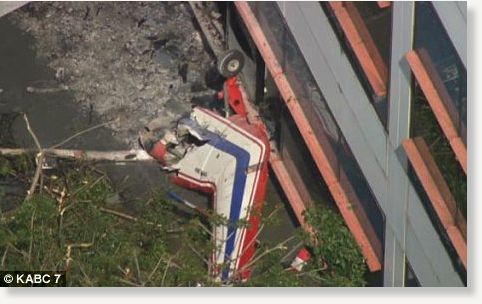 The Sikorsky helicopter was attempting to lift an industrial air-conditioning unit to be replaced at 9:30 a.m. when the aircraft lost control and crashed onto the patio next to the building, El Segundo Fire Department Battalion Chief Richard Guyer said.
Fuel leaked onto mechanical parts and caught fire, which immediately spread to the two-story building known on site as E-1, Guyer said. The pilot was pulled to safety and taken to a nearby trauma hospital. The extent of his injuries was not released.
El Segundo Fire Department and several other local fire agencies responded and put the four-alarm fire out within 40 minutes, Guyer said.
"When we were going on scene, the smoke and fire was a large plume," Guyer said. "It was probably a couple hundred feet into the air. This is a large industrial complex and they had labs and offices."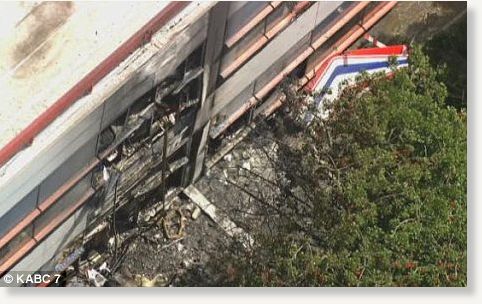 The crash site could not be seen from the street, and Raytheon officials did not allow reporters inside.
The building is located at 2000-2040 E. El Segundo Blvd.
Aerial photos of the damage show that the cockpit of the helicopter was destroyed and the aircraft was surrounded with wreckage. A large swath of the building was scarred black from smoke and fire damage.
Guyer said a tunnel leading to a large basement area was also cluttered with debris and damaged equipment. He could not estimate the cost of the damages.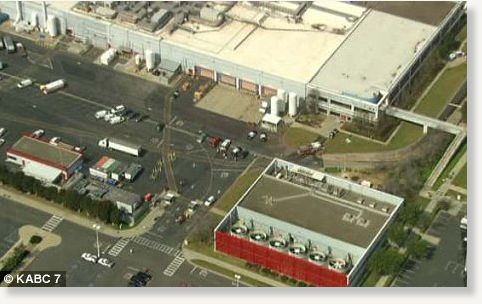 Raytheon Spokeswoman Anne Greco said few of the site's 13,000 employees were working today and no one else was injured in the accident. She said the helicopter was doing a "planned maintenance activity" when it crashed.
The Federal Aviation Administration, the National Transportation Safety Board, El Segundo's Building and Safety Department and Raytheon officials were investigating the cause of the incident today.
Raytheon Company's Space and Airborne Systems business is a $4.8 billion world leader in the design, development and manufacture of advanced electronic systems for airborne and space-based applications.