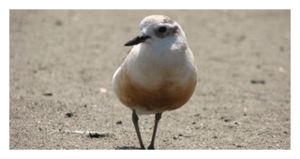 The Department of Conservation (DOC) is hoping people will come forward with with information as it investigates the shooting of more than 100 protected birds in Northland.
The birds, which included godwits, knots and endangered dotterels, were shot at remote Okato Creek in Kaipara Harbour about February 27.
Some of them were left to suffer in agony.
DOC has said any information on the shooting could be given in confidence to visitor assets and historic ranger Awhi Nathan.
A prosecution could lead to fines of up to $100,000 and a jail term of up to six months.
Mr Nathan said today that he had yet to receive any calls since the case was made public.
Police had not been called in because there was not enough information for them to act on.
Mr Nathan said the shooting appeared to involve a group of people.
"A boat load of shooters came into a secluded bay and let rip with what sounded like automatic shotguns," he said.
One person witnessed what happened, but was too afraid for his safety to come forward.
Mr Nathan said there had been two other similar incidents.
One of those involved more than 20 birds being shot, and shotgun casings and other items were forwarded to police, but the people responsible hadn't been located.
The latest incident was discovered by former Forest and Bird northern branch chairman Steve Westgate, who described it as callous.
"I was appalled to see the state of these birds, dragging their wings along the ground," he said of those left behind injured.
Deborah Harding, from the local hapu, Te Uri O Hau Settlement Trust, said the shooting was not a sanctioned cultural harvest.
"These guys are way out of line and we would like to catch them as much as DOC and Forest and Bird."