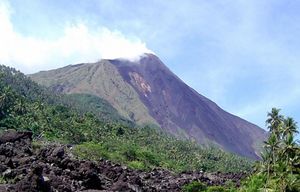 Manado - One of Indonesia's most active volcanos has erupted, sending lava and searing gas clouds tumbling down its slopes.
Volcanology official Agus Budianto said Friday that authorities were still trying to evacuate residents living along the slopes of Mount Karangetang.
There were no immediate reports of injuries or serious damage.
The 5,853-foot (1,784-meter) mountain is located on Siau, part of the Sulawesi island chain. It last erupted in August, killing four people.
Indonesia, the world's largest archipelago, is located on the so-called Pacific "Ring of Fire," an arc of volcanos and fault lines encircling the Pacific Basin.
The eruption happened hours after a massive earthquake in Japan that triggered a Pacific-wide tsunami.
.Meanwhile, thousands of people are fleeing their homes in northeastern Indonesia after officials warned that a tsunami up to six feet (two meters) high could hit coastal areas following a massive earthquake near Japan.
Some jumped in cars and motorcycles and headed to high ground as sirens blared. Others huddled in mosques or were brought to police stations or army barracks.
In Indonesia, alerts were issued along a 1,100-mile (1,770-kilometer) stretch of coastline, from North Sulawesi province to Papua. Indonesia was hardest hit by the 2004 Indian Ocean tsunami that claimed more than 230,000 lives.