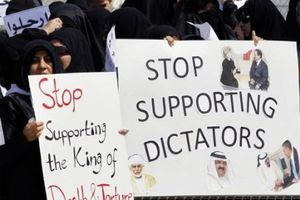 Anti-government protesters in Bahrain have gathered outside the US Embassy in the capital, Manama, calling on Washington to stop supporting the autocratic regime of the ruling Al Khalifa royal family.
The protesters gathered in front of the embassy on the 22nd day of protests on Monday, chanting slogans such as "Down down Hamad" -- a reference to the country's king -- and "Down with the monarchy! People want democracy!"
Demonstrators also chanted, "The people want to topple the regime!"
"If the Americans say 'OK, stop' ... I'm sure the regime won't say no," said Muneer Shehab, a 39-year-old activist.
Protesters, inspired by revolutions in Egypt and Tunisia, continued to keep vigil in hundreds of tents in the city's Pearl Square, demanding that Prime Minister Sheik Khalifa bin Salman Al Khalifa step down because of corruption and the deadly crackdown on the opposition in which seven people have so far been killed.
The prime minister, who is also the king's uncle, has been in power for 40 years.
The country has been ruled by the Al Khalifa royal family for more than 200 years.