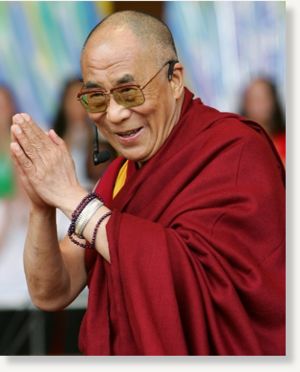 Tibet's exiled spiritual leader, the Dalai Lama, does not have a right to choose his successor any way he wants and must follow the historical and religious tradition of reincarnation, a Chinese official said Monday.
It is unclear how the 76-year-old Dalai Lama, who lives in India and is revered by many Tibetans, plans to pick his successor. He has said that the succession process could break with tradition -- either by being hand-picked by him or through democratic elections.
But Padma Choling, the Chinese-appointed governor of Tibet, said that the Dalai Lama had no right to abolish the institution of reincarnation, underscoring China's hardline stance on one of the most sensitive issues for the restless and remote region.
"I don't think this is appropriate. It's impossible, that's what I think," he said on the sidelines of the annual meeting of China's parliament, when asked about the Dalai Lama's suggestion that his successor may not be his reincarnation.
"We must respect the historical institutions and religious rituals of Tibetan Buddhism," said Padma Choling, a Tibetan and a former soldier in the People's Liberation Army. "I am afraid it is not up to anyone whether to abolish the reincarnation institution or not."
The Chinese government says it has to approve all reincarnations of living Buddhas, or senior religious figures in Tibetan Buddhism. It also says China has to sign off on the choosing of the next Dalai Lama.
"Tibetan Buddhism has a history of more than 1,000 years, and the reincarnation institutions of the Dalai Lama and Panchen Lama have been carried on for several hundred years," Padma Choling said.
Some worry that once the Dalai Lama dies, China will simply appoint its own successor, raising the possibility of there being two Dalai Lamas -- one recognized by China and the other chosen by exiles or with the blessing of the current Dalai Lama.
In 1995, after the Dalai Lama named a boy in Tibet as the reincarnation of the previous Panchen Lama, the second highest figure in Tibetan Buddhism, the Chinese government put that boy under house arrest and installed another in his place.
Many Tibetans spurn the Chinese-appointed Panchen Lama as a fake.
The Chinese government accuses the Dalai Lama of fomenting violence to seek Tibet's independence. He rejects the claim, saying he is just pushing for greater autonomy.
Tibetan protests led by Buddhist monks against Chinese rule in March 2008 gave way to torrid violence, with rioters torching shops and turning on residents, especially Han Chinese, who many Tibetans see as intruders threatening their culture.
At least 19 people died in the unrest, which sparked waves of protests across Tibetan areas. Pro-Tibet groups overseas say more than 200 people were killed in a subsequent crackdown.
With the third anniversary of that unrest approaching, Tibet has taken measures to restrict visitors.
Zhang Qingli, Tibet's hardline Communist Party chief, told reporters the restrictions were due to the "cold winter," a slew of religious activities and limited number of hotels.
"This is in accordance with national laws," he said.
China has ruled Tibet with an iron fist since Communist troops marched in 1950. It says its rule has bought much needed development to a poor and backward region.
Exiles and rights groups accuse China of failing to respect Tibet's unique religion and culture and of suppressing its people.