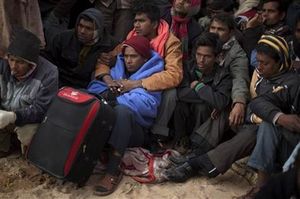 Ras Adjir, Tunisia - Thousands of migrant workers were on the move in Libya on Saturday, trying to flee the fighting between rebels and forces loyal to Moammar Gadhafi's regime, U.N. refugee agency officials said.
Most of the thousands of foreign workers in Libya's rebel-held port of Benghazi were evacuated, the officials said, and about 10,000 others inside Libya were heading for a border crossing at Salloum, Egypt.
At the Libya-Tunisia border, thousands spent the night in a 20,000-capacity tent camp, awaiting evacuation. Some of those coming from Libya in the past two days said they had attempted the journey before but were held back by heavy fighting along the way.
There has been a marked drop in the number of migrant workers coming across the border, from a peak of 20,000 several days ago to between 1,400 and 1,800, the U.N. said. On Saturday, only 500 had crossed into Tunisia by midday, said a U.N. official at the border.
People fleeing for Tunisia said they had to pass through dozens of checkpoints on the way from Tripoli to the border. All said they had been robbed by Gadhafi's security forces.
U.N. officials are trying to obtain updated satellite images to see whether large groups of migrant workers are waiting on the Libyan border, said Gilbert Greenhall, a spokesman for a U.N. disaster aid agency.
Those who crossed into Tunisia in the last two days have reported seeing thousands of fellow migrant workers on the Libyan side, but it was unclear why they were not approaching the border. The U.N. refugee agency said it worries that thousands of people trying to cross over are being held back by Libyan authorities.
Greenhall, based at the border tent camp in Tunisia, said the most recent satellite images are several days old, but that new data would only be available Sunday.
Story: Gadhafi loyalists launch fresh attack on Zawiya
Sony Attakora, 30, said he and several dozen other men from Ghana arrived in Tunisia on Friday, after having money and cell phones taken by Libyan forces. He said the group had tried to travel last week but was ordered back by Libyan troops because of heavy fighting.
Egyptian Foreign Ministry official Nagui Ghaba said evacuees told him that people are afraid to make the trip to the border because the Libyan army was regrouping and there was the possibility that those fleeing might get caught in the fighting.
"We are afraid that the situation in Libya is getting worse," Ghaba said.
International migration officials say 191,748 people, mainly migrant workers, had left Libya. Of those, 104,275 crossed into Tunisia, 84,973 went to Egypt, 2,500 went to Niger and 4,000 went to Algeria.
In Cairo, the Foreign Ministry said 145,000 Egyptians overall have returned from Libya by land, air and sea.
About 4,000 Egyptian workers remain in Tunisia, and most were being evacuated Saturday by sea and air, Ghaba said. Three naval vessels from Germany and one from Egypt were at the Tunisian port of Gabes, waiting to take Egyptians home, he added.
Over the weekend, European and U.S. aid supplies streamed into Tunisia by air and ship, and dozens of flights carried migrant workers home.
U.N. officials say significant progress has been made toward decongesting the Tunisia-Libya border, where 9,200 Egyptians left Thursday and another 3,000 left Friday.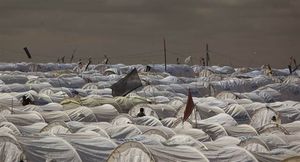 Most of those awaiting evacuation from Tunisia were from Bangladesh, whose the government is relying on help from the International Organization of Migration to bring them home.
Since Friday, the camp has been running at full capacity, with tents and blankets for all refugees, officials said. Greenhall said the top priority was now to clean up garbage and install more latrines and showers.
Before the uprising, there were 2.5 million migrant workers in Libya, including 1 million Egyptians, migration officials say. Most were in the eastern city of Benghazi, which is held by the rebels.
Many of the Bangladeshis and Africans, in particular, remain far down the pecking order of nations that have the resources to evacuate their citizens, and some were too scared to venture out.
U.N. refugee agency spokeswoman Melissa Fleming said Saturday the agency's team in Benghazi reported that most foreigners who sought help had been evacuated. Her agency had set up a camp at Benghazi for some 8,000 foreigners awaiting evacuation, most of them Bangladeshi, Indian and Sudanese migrants.
Many of the Africans who have fled say they are terrified of being mistaken for mercenaries who the opposition says were hired by Gadhafi's regime.
The Ministry of Health in Tunisia says that between Feb. 23 and March 1 there were 4,202 patients treated by health officials in the border area, and 79 of them were taken to hospitals. One Egyptian died from untreated diabetes.
The World Food Program was launching a $39.2 million emergency operation to hand out food to 1 million people in Libya, Egypt and Tunisia in three months, and planned to buy food in the region to speed up the help.
But safety concerns caused a ship with 1,303 tons of flour bound for Benghazi to turn around, and U.N. officials also cited security concerns in being unable to respond to a plea for help from a doctor in the western city of Misrata.