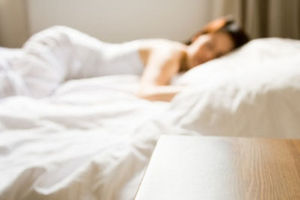 Grotty old beds could be behind a growing epidemic of 'toxic sleep'.
A new Sleep Council survey* for National Bed Month (March) shows nearly half of us are getting just six hours sleep or less a night. And an alarming four out of five people complain of disturbed or inadequate - or 'toxic' - sleep.
The solution could be shockingly simple. According to the Furniture Industry Research Association (FIRA), a bed may have deteriorated by as much as 70% from its 'as new' state after 10 years.
"People simply do not seem to make the connection between lack of sleep and the state of their bed," said Professor Chris Idzikowski of the Sleep Assessment and Advisory Service and Edinburgh Sleep Centre. "It is surprising to find that 67% of the sample were waking up with neck or back pain and not connecting their poor sleep with their, presumably old, bed."
"An even higher proportion are reporting disturbed, interrupted or 'toxic sleep' - that is,
sleep that leaves you still feeling tired in the morning
."
Said Jessica Alexander of The Sleep Council: "Our survey also found more than a quarter of us would be embarrassed for other people to see the state of their mattress and one in six couples experience roll-together which is caused by a dip in the bed. These are classic symptoms of worn out beds."
These and other symptoms of wear and tear are confirmed in the just-published results of a scientific 'autopsy' undertaken by FIRA for The Sleep Council. The autopsy demonstrated that beds as little as six years old could offer significantly less support and comfort than a new one.
Significant signs of deterioration included height loss, compressed and rusting springs, compacted fillings, split seams, frayed edging, musty smelling fillings, indentations, severe discolouration and baggy covers.
The mattresses were also tested for dust mite allergen.
According to the Medical Entomology Centre, Cambridge, around one in five aged mattresses can contain between two and 10mcg/g and one in 20 above 10mcg/g - just two mcg/g can cause hypersensitivity in asthma sufferers, while ten mcg/g can pose a serious health risk.
* Research for the survey was conducted online by Pollab Ltd between January 26 - 27 2011. 1,030 UK adults (aged 16+) were questioned, the sample being broadly representative of the UK population and demographically broken down by age, gender, region and marital status.
The Sleep Council is a generic body that aims to:
- Raise awareness of the importance of a good night's sleep to health and wellbeing.
- Provide helpful advice and tips on how to improve sleep quality.
- Provide helpful advice on choosing the right bed for optimum sleeping comfort.
The Sleep Council is funded by the National Bed Federation, the trade association for British bed manufacturers.