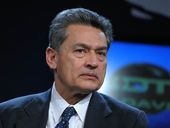 New York - A former Goldman Sachs Group Inc. director was charged by U.S. securities regulators with leaking inside information about the investment bank's results to Galleon Group hedge fund founder Raj Rajaratnam.
The U.S. Securities and Exchange Commission accused Rajat Gupta of illegally disclosing information about quarterly earnings at Goldman and Procter & Gamble Co, where he has also been a director.
It also said Gupta, a longtime executive at the consultant McKinsey & Co, tipped Rajaratnam in September 2008 about a pending $5 billion investment by Warren Buffett's Berkshire Hathaway Inc in Goldman.
That investment was widely seen as helping ensure stability for Goldman at the height of the global financial crisis.
Rajaratnam used the leaked tips from Gupta, a "friend and business associate," to trade for Galleon funds, generating more than $18 million of illegal gains, the SEC said.
"Gupta was honored with the highest trust of leading public companies, and he betrayed that trust by disclosing their most sensitive and valuable secrets," SEC enforcement chief Robert Khuzami said in a statement.
The 62-year-old Gupta is one of the highest-ranking officials implicated in the government's wide-ranging insider trading probe, which has resulted in criminal or civil charges against dozens of individuals.
Tuesday's charges, in civil administrative proceedings by the SEC, also mark the first time that activities said to have taken place at Goldman were directly implicated in that probe.
A woman who answered the phone at Gupta's home in Westport, Conn., said he would not return until Wednesday. Gary Naftalis, Gupta's lawyer, was not immediately available for a comment.
Goldman spokesman Ed Canaday declined to comment. Procter & Gamble and Berkshire were not immediately available to comment. Jim McCarthy, a Rajaratnam spokesman, declined to comment.
Advertise | AdChoices
Rajaratnam's criminal insider trading trial is scheduled to begin on March 8. He also faces SEC civil charges. Rajaratnam has denied wrongdoing.
Gupta is one of a web of associates in Corporate America that investigators have said Rajaratnam used to learn advance tips about potentially market-moving news.
The SEC said Gupta invested in at least some of the Galleon hedge funds and had other "potentially lucrative business interests" with Rajaratnam.
Gupta was on Goldman's board from November 2006 until last May, and served on its corporate governance committee.
He has been a director at Procter & Gamble since 2007, according to that company's website.
The Harvard Business School graduate was previously a worldwide managing director at McKinsey, where he worked for more than three decades.
The Gupta case "does not help in instilling confidence in Main Street investors that they're getting a fair shake at these multinational companies," said Michael Nix, co-chief investment officer at Greenwood Capital Associates.
Prosecutors have said a Morgan Stanley banker also leaked inside information that found its way to Rajaratnam.
The SEC alleged that Gupta tipped Rajaratnam about Goldman's results for the second and fourth quarters of 2008, resulting in more than $16.6 million of illicit gains.
It said he tipped Rajaratnam about Procter & Gamble's results for the final quarter of 2008, resulting in more than $570,000 of profit.
It said Gupta had at least two phone calls with Rajaratnam shortly before Goldman announced Berkshire's investment in Goldman on Sept. 23, 2008.
The SEC said this included one call that took place at 3:56 p.m. that day, three minutes after Gupta disconnected from a telephone link to the board meeting where Goldman approved the investment. Goldman announced the investment after U.S. markets closed that day.
Rajaratnam's trades in Goldman based on these tips resulted in more than $900,000 of profit, the SEC said.