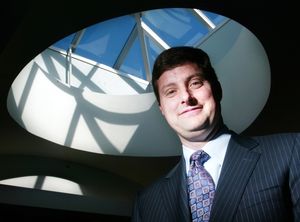 Ottawa Canada - In its 10-year history, Halogen Software has never faced anything like this. The company - co-founded by former Corel executive Michael Slaunwhite and run by Paul Loucks - survived the dot-com crash, then built a performance-management software business estimated to generate $40 million a year in revenue.
Now it is defending itself against a lawsuit that is showing the firm, its tactics and ethics in a less-than-flattering light.
With more than 20 rivals in its niche, Halogen exists in a cutthroat world where newcomers appear frequently and competitors trash one another's claims with impunity. Litigation is common.
In this case, one of Halogen's California rivals - SuccessFactors of San Mateo - is suing the Ottawa firm for engaging in fraudulent business practices in order to gain deeper insight into SuccessFactors' product lines. The specific allegation: that Halogen established a fake firm, The Magnus Group, that posed as a customer interested in buying SuccessFactors' software. Court documents allege that Halogen used the knowledge gained to improve its own software platform at SuccessFactors' expense.
''Halogen devised an elaborate scam, entailing months of planning and execution,'' SuccessFactors alleged in its motion for a temporary restraining order, ''all in order to steal and exploit SuccessFactors' non-public, proprietary information and materials to further Halogen's own product improvement.''
SuccessFactors is seeking unspecified general and punitive damages as well as an injunction to prevent Halogen from circulating or using confidential information obtained from SuccessFactors.
Halogen has responded with a motion to dismiss the case, based in part on the argument that the only remedy in California for the alleged theft of valuable information is the Trade Secrets Act. Halogen argues that the information given to The Magnus Group does not constitute a trade secret. ''SuccessFactors treated the pricing and product information before, during and after the disclosure to The Magnus Group as the most valueless marketing 'pitch' information,'' Halogen noted in its motion to dismiss.
Halogen also alleges that SuccessFactors fails to make a specific case, that it ''makes nothing but broad, factually unsupported claims that it has been damaged by Halogen's alleged conduct.''
The motion is to be heard March 29.
''We believe the SuccessFactors case is without merit,'' said Halogen spokeswoman Connie Costigan. ''This will be seen in a different light when it's over.''
Costigan declined to say whether Halogen created an entity called The Magnus Group, or had any association with Anna Rodriguez - the mysterious woman who represented The Magnus Group.
The litigation in this case, which now runs to hundreds of pages and 40 filings, describes an intensely competitive software sector. It is dominated by SuccessFactors but, increasingly, the leader is being challenged by Halogen and others. Interestingly, the two firms launched within months of each other in 2001. The California company seized an early lead it has yet to relinquish. Last year SuccessFactors recorded sales of $209 million US and employed 1,047 at year-end, making it about five times the size of Halogen.
SuccessFactors has already demonstrated its willingness to use the courts. In 2008, it sued another rival, Softscape Inc., for defamation, libel and improperly accessing SuccessFactors' product information through a company that had earlier ceased operations. Softscape, which was acquired last fall by SumTotal Solutions of California, denied the claims. However SuccessFactors won an injunction that prevented Softscape from continuing certain marketing efforts against its rival.
The apparent trigger for the legal battle involving Halogen Software was the purchase by SuccessFactors on May 3 of Cube Tree, a small software company specializing in social networking software. SuccessFactors was keen to incorporate social networking know-how into its various product lines. The acquisition naturally interested Halogen. Dawn MacKay, a director of product development at Halogen, had registered openly on SuccessFactors' website as early as 2008, according to a declaration by Mike Tomita, the web marketing manager for SuccessFactors, who conducted an analysis of the California firm's server logs.
The logs show that MacKay visited SuccessFactors' website 85 times in 2009 and 18 times until May 12, 2010. After that, she made just two more visits, one in May and another in July.
In August 2010, SuccessFactors' regional sales manager Scott Larkins fielded a call from Anna Rodriguez, who said she represented The Magnus Group and wanted a sales demonstration of SuccessFactors' software. According to SuccessFactors' complaint, Rodriguez said The Magnus Group had more than 500 employees and pointed Larkins to a website that claimed the firm was headquartered in Valparaiso, Indiana. During the summer, Larkins conducted several detailed web presentations of his company's software for Rodriguez, tailored for customers with more than 500 employees.
When Rodriguez abruptly changed her mind in September about purchasing SuccessFactors' products, Larkins grew suspicious. His company later determined that The Magnus Group was fake. For instance, the address listed on the firm's website belonged until a year ago to The Family Express, an operator of convenience stores, which moved its headquarters. The property has been for sale ever since.
Tim Brust, the agent who listed the property for nearly $1 million US, told the Citizen: ''There have been no other tenants since Family Express moved out. '' Nor was he familiar with the name Anna Rodriguez, who remains a mystery. The Citizen called the number Rodriguez gave Larkins and was greeted by the message: ''Hi. You've reached the voice mail box of Anna Rodriguez.'' Several messages have gone unreturned.
Kevin Moore, the senior forensic investigator of the law firm Fenwick & West LLP - the California outfit that is representing SuccessFactors - noted in his declaration that 11 of the 12 emails sent by Rodriguez to Larkins were sent from a computer linked to the Internet Protocol address owned by Halogen Software.
SuccessFactors said in its motion for a temporary restraining order that there is ''irrefutable evidence that Rodriguez and The Magnus Group were tied to Halogen.'' The document also claims that Larkins contacted Creative Equilibrium, a web design firm based in Ashton, near Ottawa.
The reason for the call: Creative Equilibrium, run by Rose Adams, had been listed as the designer of The Magnus Group's website. According to the document, the Ashton firm told Larkins that it had designed the site for an Ottawa firm, not one based in Valparaiso, Indiana. Soon after Larkins' call, the Magnus Group removed all references to Creative Equilibrium. The website is currently inactive. Adams did not return several phone calls.
SuccessFactors maintains that Rodriguez gathered considerable detail about the California firm's products, social networking expertise and related sales strategies - features that it claims were incorporated into Halogen's software offerings. ''Halogen has emerged as the most serious competitor to SuccessFactors,'' the California firm alleged in its motion for a temporary restraining order, ''particularly for mid-size companies of 500 to 1,500 employees.''
Halogen notes in its motion to dismiss that ''there is no allegation that any of this information was provided to Ms. Rodriguez under a non-disclosure agreement, that the parties entered into any sort of confidentiality agreement. ''
SuccessFactors claims that since Halogen gained information last summer via The Magnus Group, it ''has had a significantly higher rate of success against SuccessFactors when competing head-to-head for customers.''
On Feb. 9, SuccessFactors reported ''outstanding'' financial results for the fourth quarter ended Dec. 31 and for the year as a whole. Indeed, sales for the quarter were $61.7 million compared to the company's earlier projections they would be around $56 million. Revenues were up 46 per cent year over year.
One day earlier, on Feb. 8, Halogen reported that its ''annual recurring revenues'' were up 38 per cent year over year.
While this is obviously a software niche with plenty of momentum, the costs of securing a position have been heavy, especially in the case of SuccessFactors. The California firm has accumulated deficits of $228 million since its founding, due to spending on developing software and acquiring customers. With a market value of roughly $1.8 billion, the investment has been worth it, but software firms can lose ground quickly.
Since Halogen is a private company, it's unclear whether it has incurred deficits of similar size relative to revenues. What is clear is that there is a lot at stake for both firms - in terms of both money and reputation.