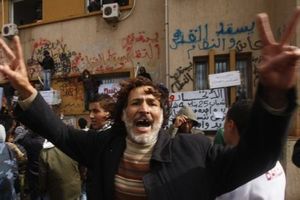 Libyan ambassador to Jordan has given up his diplomatic career to protest crackdown on pro-democracy protesters in his North African country.
On Thursday, Mohammad Hassan Barghathi announced his resignation from his post because of the current developments in Libya, Petra news agency reported.
Barghathi said, "The bloody clashes in my country, where the Libyan people are being killed are unbelievable, unimaginable and unjustifiable."
Libyan security forces have reportedly killed some 1,000 people during recent pro-democracy demonstrations against the authoritarian reign of 68-year-old Gaddafi.
Gaddafi's regime is facing mounting international condemnations over its brutal crackdown on demonstrators as the death toll from Libya's revolution continues to climb.
The UN Secretary General Ban Ki-moon has called on the Libyan ruler to show restraint and immediately stop the violence against demonstrators.
The UN Security Council has also condemned Libya's deadly crackdown on the pro-democracy protesters.
The African Union on Wednesday strongly condemned the indiscriminate and excessive use of force by Gaddafi's forces against mass rallies.
The African body announced that it would send a mission to Libya to investigate the situation there.