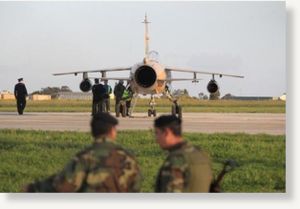 The pilots of two Libyan Air Force Mirage jet fighters who unexpectedly flew to Malta this afternoon have sought political asylum in Malta, informed sources said.
The pilots told the Maltese authorities that they left from a base near Tripoli and flew to Malta after being ordered to bomb protesters who had occupied the Libyan second city of Benghazi.
The pilots are being questioned by the police,
The pilots initially asked for emergency clearance to land and for refuelling.
Their arrival followed shortly after the arrival of two civilian helicopters which flew in and landed at Malta International Airport this afternoon carrying seven people.
Informed sources said the helicopters 'escaped from Libya with no official clearance' but arrived in Malta regularly.
Such was the haste of their departure from Libya, that only one of the passengers was carrying a passport. The passengers claimed they are French.
Immigration police are checking the identities of the passengers while holding them at the airport.