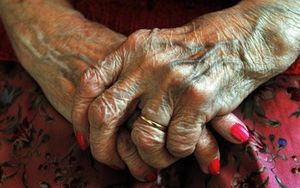 The post-war baby boom generation "has done pretty well for itself" and should be prepared to use its property wealth to pay for care in old age, a government adviser has said.
Lord Warner, who is drafting plans to reform the elderly care system, said it would be unfair to expect the working population to foot the bill for looking after their parents' ageing generation.
He warned that the "squeezed" middle-classes face potentially the greatest burden, amid concerns that it is already too late to help ease the "catastrophic" costs likely to hit the recently retired.
The former health minister called on insurance firms to develop "creative" new products to allow pensioners to protect themselves against being forced to sell their homes to pay for care and support.
But he warned that the independent commission drawing up reforms for the Coalition would have to consider how to exploit the "big chunk of potential" funding currently locked up in housing.
Economists suggested that a future system would see more pensioners who own their homes denied state funding to help them pay for care in old age.
A place in a nursing home costs an average of £36,000 a year but anyone with assets worth more than £23,250 receives no help at all from the state.
Britain's ageing population is projected to strain public finances further in the coming decades. An estimated 17 million people in Britain alive today will live to the age of 100. Experts predict that by 2026, the long term care and support system will have a funding shortfall of £6 billion without urgent reforms.
Before the election, all three major parties pledged to end the need for pensioners to sell their homes to fund the cost of care. The Tories vowed to oppose plans for a so-called "death tax", a compulsory levy to pay for elderly care. But Coalition ministers were later forced to admit that all options would be considered.
Lord Warner, a Labour peer, is on the three-person commission chaired by economist Andrew Dilnot and tasked with recommending to the Health Secretary, Andrew Lansley, a new system for funding long term care and support for elderly and disabled adults.
The inquiry is due to report in July but has already concluded that no single "silver bullet" solution exists, with individuals, taxpayers and family members all certain to share the burden.
"Any fantasy about 100% universal state provision - forget it," Lord Warner, 70, told a conference in London organised by the think-tank, Reform.
"The issue that is knocking around, because it is such a big chunk of potential resource, is the money that's locked up in fixed assets in terms of people's houses," he said.
"We are living through, and I am part of, a generation which, frankly, has done pretty well for itself in terms of its ability to build up assets." But the need to ensure "intergenerational fairness" means that pensioners should not expect to rely on their children for financial support.
"As this ageing population emerges, the working population is shrinking. My kids regularly remind me that it's not for them to keep me in the style to which I have become accustomed.
"That's a joke but it's also a serious point. We have to think about this a lot more clearly and the commission is thinking about that."
"What is clear is that resources locked up in housing - people's private wealth in housing - is an issue in lots of countries. What it has been bedevilled by is a lot of political tensions and it is a very difficult area.
"But it is also an area where some people are making their own decisions in their own way. They are not doing it necessarily through traditional equity release models.
"This issue is not going to go away and we are going to have to try to come up with something that is politically acceptable and workable in this area."
Lord Warner said there would always be "a safety net" of state funding to help the poorest pensioners receive the care they needed.
But he added: "Coming up very fast into the political arena - and it will be an issue at the election - is the so-called 'squeezed middle', the people just above the safety net."
This is the group who, "rightly or wrongly" feel as if their income is "under attack", because of rises in tax, national insurance, and student fees, and cuts to child beneft.
Most observers think the current "cliff edge", where state support is cut off for those with assets above £23,250, is "too stark", he said.
Currently, financial services firms offer a range of "equity release" schemes, through which home owners can gain access to cash by effectively selling some of the value of their houses. In some cases, pensioners agree to pass the ownership of their property to the loan company in exchange for a large enough sum to fund their care.
However, Lord Warner said such equity release schemes have not proved popular and called for "a bit more creativity" in developing new equity release and insurance products.
"The work we have been doing around this to date has included looking at how the private market can offer financial products to help people protect their private assets and looking at the different ways in which the state can contribute."
He urged the insurance industry to develop policies to enable individuals to protect themselves against the "catastrophic costs" of a care home place which currently force many to sell their homes.
However, Patrick Nolan, the chief economist at Reform, warned that it was "too late" to help the 65-85 yr-olds save money or take out insurance to cover the costs of their care.
This may be "unfair" but whenever a big change comes in "there is always a transitional group who lose out", he said.
"We are going to have to bite the bullet politically and change how we think about housing," he said. "If you look at what's happening overseas, countries are looking at assets as well as income.
"That does have to be part of the mix. It is almost politically toxic to say 'we are going to have to consider the value of your home' when we think about funding these things but we are in that situation."
Nick Starling, from the Association of British Insurers, said individuals would need to be forced to make some compulsory contributions towards the cost of their support in old age.
"Whatever system is chosen, individuals will have to contribute," he said. "We do not think a purely voluntary system would work.
"We think that a partnership system where the government pays a clear sum towards care costs and then introduces ways to ensure that individuals plan ahead for their contribution, would pool resources effectively