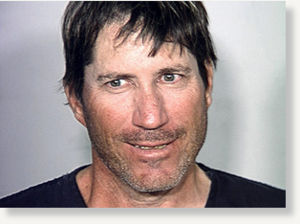 It was a "Match" made in hell.
A man was so angry at the woman he'd met on an online dating service for breaking up with him, he brutally stabbed and beat her outside her Las Vegas home, police said.
Wade Mitchell Ridley was charged Tuesday after allegedly confessing to trying to kill Mary Kay Beckman last month.
The 53-year-old told police he "wanted to kill her," according to a police report obtained by ABC 13 Action News in Las Vegas. "He wanted her to pay for how she mistreated him."
The 49-year-old woman's daughter told police her mother and Ridley had only been together for only a short time before she ended the "patchy" relationship. The two met via Match.com, an online dating service.
"He was not happy with the break up," she told police, the report states.
The night of the attack, Ridley told authorities he "broke into the garage with a knife and waited for her to return home" on the night of Jan. 21.
Beckman arrived and was on the phone when Ridley allegedly assaulted her.
He told police he "knocked her to the ground, and began stabbing her repeatedly until he recognized that the knife broke," the report states. "Then he continued by stomping her head and neck, until she [stopped] making the gurgling noise."
Beckman survived the horrific assault and is in critical condition, but another of Ridley's ex-girlfriends was not so lucky.
Anne Simenson, 62, was murdered in her Phoenix home earlier this month. She was viciously stabbed with a machete and a butcher knife, Fox 10 News in Phoenix reported. Jewelry and electronics were also stolen from her home, as well as her car.
"This is something where he was going back, apparently was going back to people he felt he was wronged by and thought he needed to take out some retribution on these people," Phoenix Police Sgt. Steve Martos told ABC 13 Action News.
Ridley faces several charges in Nevada, including attempted murder and robbery. He has not been charged in the Arizona killing, a case which is still under investigation, but is considered a suspect.