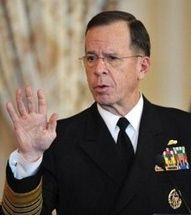 Washington - The top US military commander will visit Israel and Jordan Sunday and Monday to reaffirm US support following the collapse of the presidency of Hosni Mubarak in Egypt.
Chairman of the Joint Chiefs of Staff Admiral Mike Mullen will begin his trip in Amman where he will meet with King Abdullah II and his Jordanian counterpart, Lieutenant General Meshaal Al-Zabn.
"He will discuss security issues of mutual concern and reassure both these key partners of the US military's commitment to that partnership," Pentagon spokesman Captain John Kirby said.
In Israel, Mullen will hold talks with Prime Minister Benjamin Netanyahu, President Shimon Peres and the country's military leaders.
The visit comes after Mubarak stepped down Friday after 30 years, handing power to the military after more than a million people took to the streets in the culmination of an 18-day uprising in Egypt.
Source: Agence France-Presse