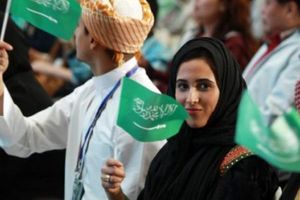 Nine activists in Saudi Arabia have announced the formation of the first political party in the country, amid ongoing revolutions and pro-democracy protests in other Arab countries.
The move comes despite the kingdom's ban on forming political parties.
The founders of the "Islamic Umma Party" have conveyed a statement to King Abdullah asking him to recognize the group, AFP reported on Thursday.
"It is not hidden from you that the Islamic world has seen great political developments and the strengthening of freedoms and human rights, which Islam already approves ... It is now time for the kingdom to keep pace with this development and contribute to it," a copy of the letter published on the their website reads.
"We have established the Islamic Umma Party to contribute to forwarding the peaceful political reform movement, to which all the people look forward," the statement adds.
The nine founders, who are lawyers, businessmen, professors and political activists, believe in "freedom," "political pluralism, and the peaceful transfer of power, and the right of the (Islamic) nation to choose its governments," it says.
Sheikh Mohammed al-Qahtani, a founder of the party, says the formation of the party "was a natural response to the development of the political situation in the region and the development of political action in the kingdom."
"The time has come to approve political rights and launch general freedoms, especially to approve the right of the people to elect the Shura Council and the creation of legislation to govern all these political rights," Qahtani added.
Saudi Arabia does not have a parliament. Instead, it has a consultative Shura Council, which is totally an appointed body, aimed at providing the king with consultations on policies, laws, and other matters.
The initiative for founding the Islamic Umma Party is taken as Pro-democracy movements have been spreading across Arab countries in recent weeks.
Last month in Tunisia, nationwide outrage at the government's suppressive policies sparked a revolution, ending the 23-year-long rule of former President Zine El Abidine Ben Ali and forcing him to flee to Saudi Arabia.
Egypt has been rocked by millions-strong nationwide revolution against beleaguered President Hosni Mubarak since January 25. The protesters want Mubarak to step down.
Other pro-democracy uprisings have also been taking place in Yemen, Algeria and Jordan and more Arab countries are expected to witness similar popular revolts.