Three killed, several wounded in clashes between police and 3,000 protesters in western province of Egypt, which marked first sizeable anti-Mubarak gathering in the area.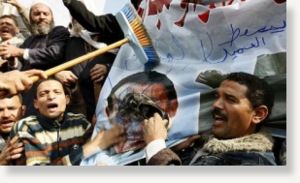 Three people were killed and several suffered gunshot wounds in clashes between security forces and about 3,000 protesters in a western province of Egypt, state TV and security sources said on Wednesday.
The clashes in New Valley, a province that includes an oasis in Egypt's western desert, erupted on Tuesday and continued into Wednesday, according to security sources. State TV said three people died in the fighting but did not provide further details.
It appeared to be the first serious clash between police and protesters since officers all but disappeared from Egyptian streets after they had beaten, teargassed and fired rubber bullets at protesters on Jan. 28, dubbed the "Day of Wrath".
President Hosni Mubarak sent the army onto the streets that night, but several days of looting and lawlessness followed the withdrawal of police and many prisoners escaped from prison.
On Monday, a security source said former Egyptian Interior Minister Habib el-Adli had appeared before military prosecutors and may face charges of causing a breakdown in order during protests.
The protest in New Valley, about 500 km south of Cairo, was the first sizeable anti-Mubarak gathering in that area reported by security sources. The countrywide protests to topple the president are now in their third week.
Source: Reuters