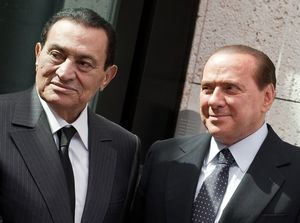 Italy's PM says he hopes there can be a transition to democracy in Egypt without a "break" from the president.
Silvio Berlusconi, the Italian prime minister, has described Egypt's president as a "wise man" and called for continuity in the country's government.
"I hope that in Egypt there can be a transition toward a more democratic system without a break from president [Hosni] Mubarak, who in the West, above all in the United States, is considered the wisest of men and a precise reference point," he said.
"I hope there can be continuity in government," he told reporters on Friday.
His comments came as hundreds of thousands of pro-democracy protesters continued to rally in Tahrir Square, central Cairo, and in Alexandria, Egypt's second city, calling for Mubarak to stand down.
However, the Italian leader's aides said Berlusconi did not mean Mubarak should remain in office, rather that he "would like to see someone like Mubarak at the head of the country".
Berlusconi's remarks come a day after he and four other European leaders said they were "extremely concerned" about the situation in Egypt, and called for a rapid transition towards a "broadly representative government".
The European Union's 27 leaders discussed the situation in Egypt at a one-day summit held in Brussels, the Belgian capital, on Friday.