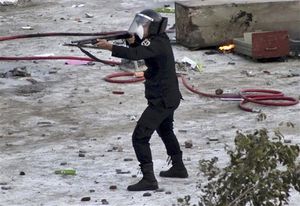 Cairo - Internet service in Egypt was disrupted and the government deployed an elite special operations force in Cairo on Friday, hours before an anticipated new wave of anti-government protests.
The developments were a sign that President Hosni Mubarak's regime was toughening its crackdown following the biggest protests in years against his nearly 30-year rule.
The counter-terror force, rarely seen on the streets, took up positions in strategic locations, including central Tahrir Square, site of the biggest demonstrations this week.
Facebook and Twitter have helped drive this week's protests. But by Thursday evening, those sites were disrupted, along with cell phone text messaging and BlackBerry
Messenger services. Then the Internet went down.
Earlier, the grass-roots movement got a double boost - the return of Nobel Peace laureate Mohamed ElBaradei and the backing of the biggest opposition group, the Muslim Brotherhood.
After midnight, security forces arrested at least five Brotherhood leaders and five former Members of Parliament, according to the group's lawyer, Abdel-Moneim Abdel-Maksoud, and spokesman, Walid Shalaby. They said security forces had also taken a large number of Brotherhood members in a sweep in Cairo and elsewhere.
The real test for the protest movement will be whether Egypt's fragmented opposition can come together, with Friday's rallies expected to be some of the biggest so far.
Social networking sites were abuzz that the gatherings called after Friday prayers could attract huge numbers of protesters demanding the ouster of Mubarak. Millions gather at mosques across the city on Fridays, giving organizers a vast pool of people to tap into.
The 82-year-old Mubarak has not been seen in public or heard from since the protests began Tuesday with tens of thousands marching in Cairo and a string of other cities. While he may still have a chance to ride out this latest challenge, his choices are limited, and all are likely to lead to a loosening of his grip on power.
Violence escalated on Thursday at protests outside the capital. In the flashpoint city of Suez, along the strategic Suez Canal, protesters torched a fire station and looted weapons that they then turned on police. The Interior Ministry said in a statement that more than 90 police officers were injured in those clashes. There were no immediate figures on the number of injured protesters.
In the northern Sinai area of Sheik Zuweid, several hundred Bedouins and police exchanged gunfire, killing a 17-year-old. About 300 protesters surrounded a police station from rooftops of nearby buildings and fired two rocket-propelled grenades at it, damaging the walls.
Video of the shooting of the teenager, Mohamed Attef, was supplied to a local journalist and obtained by AP Television News. Attef crumpled to the ground after being shot on the street. He was alive as fellow protesters carried him away but later died.
The United States, Mubarak's main Western backer, has been publicly counseling reform and an end to the use of violence against protesters, signs the Egyptian leader may no longer be enjoying Washington's full backing.
In an interview broadcast live on YouTube, President Barack Obama said the anti-government protests filling the streets show the frustrations of Egypt's citizens. "It is very important that people have mechanisms in order to express their grievances," Obama said.
Noting that Mubarak has been "an ally of ours on a lot of critical issues," Obama added: "I've always said to him that making sure that they're moving forward on reform, political reform and economic reform, is absolutely critical to the long-term well-being of Egypt."
"And you can see these pent-up frustrations that are being displayed on the streets," Obama said.
In a move likely to help swell the numbers on the streets, the Muslim Brotherhood ended days of inaction to throw its support behind the demonstrations. On its website, the outlawed group said it would join "with all the national Egyptian forces, the Egyptian people, so that this coming Friday will be the general day of rage for the Egyptian nation."
However, Internet disruptions were reported by a major service provider for Egypt. Italy-based Seabone said there was no Internet traffic going into or out of the country after 12:30 a.m. local time Friday.
For the Brotherhood, still smarting from their recent defeat in a parliamentary election marred by fraud, the protests offer a rare opportunity to seize on what is increasingly shaping up as the best shot at regime change since Mubarak came to office in 1981.
The Brotherhood has sought to depict itself as a force pushing for democratic change in Egypt's authoritarian system, and is trying to shed an image among critics that it aims to seize power and impose Islamic law. The group was involved in political violence for decades until it renounced violence in the 1970s.
The Brotherhood's support and the return of ElBaradei were likely to energize a largely youth-led protest movement that, by sustaining unrest over days, has shaken assumptions that Mubarak's security apparatus can keep a tight lid on popular unrest.
ElBaradei, the former head of the U.N. nuclear watchdog and a leading Mubarak opponent, has sought to recreate himself as a pro-democracy campaigner in his homeland. He is viewed by some supporters as a figure capable of uniting the country's fractious opposition and providing the movement with a road map for the future.
For ElBaradei, it is a chance to shake off his image as an elitist who is out of touch after years of living abroad, first as an Egyptian diplomat and later with the United Nations.
Speaking to reporters Thursday before his departure for Cairo, ElBaradei said: "If people, in particular young people, ... want me to lead the transition, I will not let them down. My priority right now ... is to see a new regime and to see a new Egypt through peaceful transition."
Once on Egyptian soil, he struck a conciliatory note.
"We're still reaching out to the regime to work with them for the process of change. Every Egyptian doesn't want to see the country going into violence," he said. "Our hand is outstretched."
"I wish that we didn't have to go to the streets to impress on the regime that they need to change," ElBaradei said. "There is no going back. I hope the regime stops the violence, stops detaining people, stops torturing people."
With Mubarak out of sight, the ruling National Democratic Party said Thursday it was ready for a dialogue with the public but offered no concessions to address demands for a solution to rampant poverty, unemployment and political change.
Safwat El-Sherif, the party's secretary general and a longtime confidant of Mubarak, was dismissive of the protests at the first news conference by a senior ruling party figure since the unrest began.
"We are confident of our ability to listen. The NDP is ready for a dialogue with the public, youth and legal parties," he said. "But democracy has its rules and process. The minority does not force its will on the majority."
El-Sharif's comments were likely to reinforce the belief held by many protesters that Mubarak's regime is incapable, or unwilling, to introduce reforms that will meet their demands. That could give opposition parties an opening to win popular support if they close ranks and promise changes sought by the youths at the forefront of the unrest.
Mubarak has not said yet whether he will stand for another six-year term as president in elections this year. He has never appointed a deputy and is thought to be grooming his son Gamal to succeed him despite popular opposition. According to leaked U.S. memos, hereditary succession also does not meet with the approval of the powerful military.
Mubarak has seen to it that no viable alternative to him has been allowed to emerge. Constitutional amendments adopted in 2005 by the NDP-dominated parliament has made it virtually impossible for independents like ElBaradei to run for president.
Continuing the heavy-handed methods used by the security forces the past three days would probably buy his regime a little time but could strengthen the resolve of the protesters and win them popular sympathy.
The alternative is to introduce a package of political and economic reforms that would end his party's monopoly on power and ensure that the economic liberalization policies engineered by his son and heir apparent Gamal over the past decade benefit the country's poor majority.
He could also lift the emergency laws in force since 1981, loosen restrictions on the formation of political parties and publicly state whether he will stand for another six-year term in elections this year.
Mubarak's regime suffered another serious blow Thursday when the stock market's benchmark index fell more than 10 percent by close, its biggest drop in more two years on the back of a 6 percent fall a day earlier.
Egypt's situation is similar to Iran's manipulation of the Internet during the 2009 disputed elections, said Craig Labovitz, chief scientist for Arbor Networks, a Chelmsford, Mass.-based security company.
Blocking the Web in countries that exert strong control over their Internet providers is not difficult, he said, because companies that own fiber optic cables and other technologies are often under strict licenses from the government.
"I don't think there's a big red button - it's probably a phone call that goes out to half a dozen folks," he said.