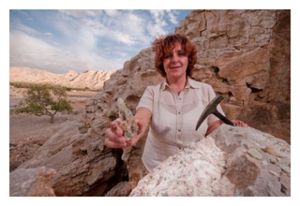 Six of the world's leading experts from Slovenia's Karst Institute and UAE University have discovered the remnants of an cave network that may have existed millions of years ago.
The cave is thought to predate the surrounding wadi and should provide clues about the UAE's former climate, geography and water.
The discovery happened by chance at the beginning of the week when they asked for help from a young man, known to them only as Talal, when they were lost in Wadi Haqil.
"Just by chance we asked him if he knew if there was a cave in the area," said Dr Asma al Ketbi, the head of the Emirates Geographic Society and a geography professor at UAE University, at the site yesterday. "At first he said 'no', and then he just brought us to this cave."
The dark chamber contained little more than a few startled pigeons, but in the mountainside above they found shining strips of crystal green embedded in the limestone.
The rock holds the remains of a hydrothermic cave network of thousands of channels covered in crystal walls five to 10 centimetres thick, with at least one chamber measuring more than seven metres in diameter.
The cave was probably carved by water that permeated its sides, developing in multiple directions at once, an unusual geological feature similar to caves found near glaciers.
The scientists found another type of cave network in Fujairah on Tuesday, with help from a man from Tawaeen whose parents once lived in a cave.
"I knew it because I'm from the area and I always go to collect honey from there," said Abdulla al Hafeeti, 40, who is retired from the army. "I was very happy that they came here because it's a remote area and we want to introduce the caves as a national treasure."
The Fujairah caves, about 25 metres long and 50 metres high, are much younger and could give insight into the formation of wadis and fluctuating water levels. Some caves were so recent they are still forming, said Dr Tudej.
"The second caves are developed in a different process to the first channels," said Dr Tadej Slabe, the head of the Karst Research Institute. "They're developed with more rain in the area that's associated with the development."
The scientists have mapped three cave areas. Sediment analysis over the coming months will reveal clues as to the climate and water systems millions of years ago.
The scientists met Sheikh Saud bin Saqr, Ruler of RAK, at his palace to present their findings and petition him to preserve the area as a possible research and tourism centre on caving.
Meanwhile, a Dh10,000 reward previously offered by Dr al Ketbi for the discovery of more caves remains open to adventurers and honey collectors alike.