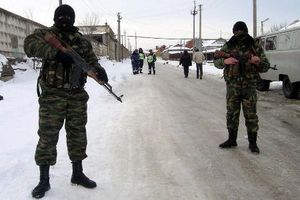 The explosion of a car parked near a cafe in Russia's troubled southern republic of Dagestan has claimed the lives of four people, the country's Investigation Committee says.
Five other people were severely injured during the blast that hit the cafe in the city of Khasavyurt on Friday at 7.30 p.m. local time (18.30 GMT).
"According to preliminary data, two people working in the cafe and two customers were killed; five were taken to hospital in critical condition," the Russian RIA Novosti quoted the committee as saying in a statement.
No group has yet claimed responsibility for the blast yet.
Sporadic attacks and militant clashes are common in Russia's North Caucasus republics, especially Chechnya, Dagestan, and Ingushetia.
Russia has been fighting militants in the North Caucasus since the mid 1990s.
Violence has increased to such an extent it has almost become a daily occurrence in the Northern Caucasus following the two separatist wars in Chechnya in the 1990s.
Violence first broke out in Chechnya in 1994, when 250,000 people were forced to flee to neighboring territories because of a war between Chechen separatists and the Russian army.
After a short-lived and unstable peace from 1996 to 1999, war resumed following actions blamed on Chechen militant groups.
An estimated 100,000 people have been killed in the conflict and many more displaced.
Widespread unemployment, especially among young adults, is a major problem that has been attributed to an increased recruitment of people by separatist militants.