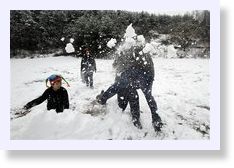 Washington - A band of frigid weather snaking its way up the East Coast on Sunday threatened to bring blizzards and a foot of snow to New York City and New England, while several states made emergency declarations as the storm caused crashes on slick roads.
Airlines grounded hundreds of flights Sunday along the Northeast corridor in anticipation of the storm, affecting major airports including New York's JFK and Newark. Airlines said more cancellations were likely as the storm progressed. Travel misery began a day earlier in parts of the South, where a rare white Christmas came with reports of dozens of car crashes.
In Washington transportation officials pretreated roads and readied 200 salt trucks, plows and other pieces of equipment to fight the 6 inches or more expected to fall in the Mid-Atlantic region.
The Northeast is expected to get the brunt of the storm. Forecasters issued a blizzard warning for New York City for Sunday and Monday, with a forecast of 11 to 16 inches of snow and strong winds that will reduce visibility to near zero at times. A blizzard warning was also in effect for Rhode Island and most of eastern Massachusetts including Boston, with forecasters predicting 15 to 20 inches of snow. A blizzard warning is issued when snow is accompanied by sustained winds or gusts over 35 mph.
As much as 18 inches could fall on the New Jersey shore with wind gusts over 40 mph.
Philadelphia Mayor Michael Nutter declared a snow emergency as of 2 p.m. Sunday, and he urged residents to stay off the roads.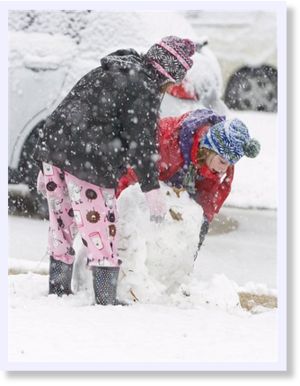 By early Sunday, Maryland, Virginia and North Carolina had also declared states of emergency. Amtrak canceled several of its trains in Virginia.
"Winds with gusts up to 45 miles per hour will cause blowing snow and that's going to cause the worst of it," Virginia Gov. Bob McDonnell told The Weather Channel Saturday night. "We're urging extreme caution in travel. Try to get home early and if you don't have to travel don't go."
Major airlines were canceling flights in the storm's path Sunday. Continental Airlines canceled 250 departures from Newark Liberty International Airport outside New York City. United Airlines canceled dozens of Sunday departures from Newark, Philadelphia, New York's LaGuardia and JFK, Boston and other airports. AirTran and Southwest Airlines also canceled flights, mostly in or out of Washington Dulles, Baltimore and Newark.
Delta Air Lines spokesman Kent Landers said the airline proactively canceled about 850 mainline and regional flights systemwide Sunday.
"Most cancelations are concentrated from the Carolinas through New York," he said.
Mary Sanderson at American Airlines said flights through Washington, Baltimore and Philadelphia would likely be canceled after 2 or 3 p.m. Sunday, with late starts expected Monday morning.
More than 800 flights had been canceled as of Sunday morning at New York's LaGuardia and John F. Kennedy International Airport and at Newark Liberty International Airport, the Port Authority of New York and New Jersey said.
Most carriers were waiving fees for one-time changes in affected areas and urging passengers to make changes through their websites.
The monster storm is the result of a low pressure system off the North Carolina coast that will strengthen into a major storm as it moves northeast, according to the National Weather Service.
Early Sunday, winter storm warnings stretched from Georgia through New England.
The white Christmas in the South was one for the record books. Columbia, S.C., had its first significant Christmas snow since weather records were first kept in 1887. Atlanta had just over an inch of snow - the first measurable accumulation on Christmas Day since the 1880s.
The North Carolina Highway Patrol said late Saturday that most of the roads in and around Asheville were either covered or partially covered with snow and ice. Emergency management spokeswoman Julia Jarema said troopers in the two dozen westernmost counties answered 350 calls in 18 hours Saturday. Most were wrecks.
"We're busy," Ryan Dean of Dean's Wrecker Service in Raleigh, NC, said Sunday. "We've been out since 3 in the morning pulling people out of the ditch."