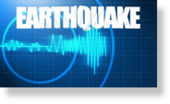 A moderate earthquake centered near Schuyler rattled eastern Nebraska on Thursday morning, the U.S. Geological Survey said.
The quake occurred at 7:02 a.m. CST about three miles underground and registered a preliminary magnitude of 3.3, the USGS said.
Platte County emergency services director Tim Hofbauer and the sheriff's office said there were no reports of injuries or damage.
Lennie Hiltner, Schuyler police chief, said he had stopped by a car dealership when he heard a loud noise but didn't feel anything shake. He and others at Reinecke Motor Co. quickly inspected the building but found no damage.
Several people called the police department to report hearing the noise.
Hiltner said he was in Sacramento, Calif., during the 6.9-magnitude Bay Area earthquake in 1989. He said Thursday's local quake was nothing in comparison. That California quake killed 63 people, injured almost 3,800 and caused up to $10 billion damage.
A 3.0 magnitude earthquake shook parts of Custer, Dawson, Gosper and Lincoln counties in western Nebraska on Sept. 26. No damage or injuries were reported. Its epicenter was six miles southwest of Oconto in southern Custer County.