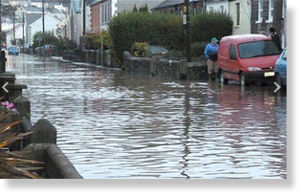 The main train line into Cornwall has been blocked by a landslide, cutting off the county from the rest of Britain, as storms bring flooding and disruption to large parts of the south west.
Drivers were washed into Portloe harbour near Truro while still in their cars and three feet of standing water trapped hundreds of people in their homes in many places.
Traffic on the main routes through mid-Cornwall backed up for several miles, causing long delays to commuters.
The landslip took place at around 6.30am at Lostwithiel and there are currently no trains in or out of the county.
No deaths or serious injuries were reported this morning despite the severity of the weather.
Gales have contributed to the problems as trees have been brought down and blocked roads including the A390 at Gunnislake.
Many schools have been closed.
Lostwithiel, Bodmin, St Austell, Par, Luxulyan and St Blazey have been flooded.
Helicopters from RNAS Culdrose and RMB Chivenor rescued trapped drivers near St Blazey, where water was "waist-deep".
Parts of the county's main roads, including the A30, A38 and A390 are under water and lorries and cars have been abandoned.
A spokesman from the Maritime and Coastguard Agency (MCA) said coastguard teams were working with emergency services to evacuate flooded buildings across coastal communities.
A spokesman for Devon and Cornwall police said the force was dealing with a "major flooding incident".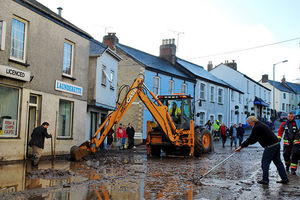 He added: "The rain has now stopped but there is still very deep flood water in certain areas.
"Many roads have been affected and people are advised not to undertake any journeys through flooded areas."
Barry Green, owner of Lostwithiel Bakery, said the flood had "pretty much destroyed" his shop.
The 46-year-old was working at the Quay Street bakery early today when the water raged through the premises.
He said: "It all kicked off at about 5.15am when I heard a bubbling outside in the drains.
"I was up at 3am and everything was fine.
"One minute it was just lapping at the front door with no problem and I was just lifting a few boxes then I opened the front door and it just came pouring through.
"One minute I was making bread the next I was wading waist high through muddy water."
Mr Green left the shop and drove away from the bakery - located at the lowest point of the valley - to safety.
He said: "It was like driving up a river."
The Environment Agency denied it had not acted fast enough to warn people of the risk of flooding.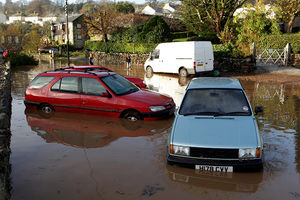 A spokesman said: "The joint Environment Agency/Met Office Flood Forecasting Centre issued an extreme rainfall alert yesterday afternoon to give emergency responders and local authorities advance warning of the heavy rain overnight, which has mainly resulted in flooding from drains and surface water run-off."
Others have suggested that drifts of autumn leaves left uncollected in the street quickly blocked drains and culverts, contributing to the flooding.
Locals said the flooding had brought back bad memories of Boscastle, in which the north Cornwall village suffered a disaster only seen once every 400 years when heavy rain in 2004 caused so much flooding that floating cars left gouges on the roofs of buildings.
Lostwithiel local Derek Baynton told BBC News: "When I looked out of my window an hour ago I feared a Boscastle type situation.
"The worst of the rain is over, but the water's still flowing down Quay Street in both directions."