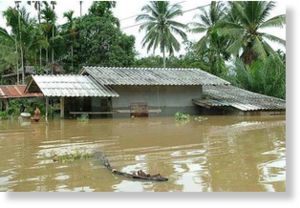 Thailand's flood death toll has risen to 227 with the government helping flood victims obtain compensation in the affected provinces.
Wiboon Sanguanpong, the director-general of the Department of Disaster Prevention and Mitigation, confirmed on Tuesday that 227 people were killed in the recent flooding, reported China's Xinhua news agency. Heavy floods, caused by a combination of heavy rainfall and water released from overloaded reservoirs, have hit Thailand since October 10, especially in the country's northeast and the south.
The families of the flood victims will receive additional financial aid under state regulations, a government official said.
Overall, 51 provinces have been impacted by the flooding, affecting more than 8.6 million people. The floods in 35 provinces have eased and restoration work has begun, while floodwaters remain in 16 provinces with 1.4 million people being affected.
Minister Attached to the Prime Minister's Office Satit Wonghnongtoey reaffirmed that initial compensation payments will be paid to all of the flood victims. According to a government official, so far 520,000 people have already received compensation via the Government Savings Bank.
A total of 330,000 households are likely to be compensated in the southern provinces affected by the floods, but the flood situation is still unstable with more damages occurring in Surat Thani, Chumphon and Nakhon Si Thammarat.
Nearly one million households comprising of 950,000 family households are expected to be compensated, Wonghnongtoey concluded.