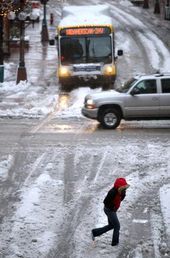 Minneapolis -- Parts of the Upper Midwest dug out from a heavy snowfall Saturday that caused more than 400 traffic accidents in Minnesota, and wintry conditions also were being blamed for a collision in northern Wisconsin that killed two people.
Nearly a foot of snow had fallen in parts of the Twin Cities area by Saturday evening, downing trees and causing sporadic power outages.
The storm that began late Friday night was blamed for a collision Saturday morning that killed both drivers and left a passenger hospitalized. The sheriff's department in Wisconsin's Bayfield County said the storm produced "rapidly deteriorating road conditions" that likely contributed to the crash.
Kevin Kraujalis of the National Weather Service's Duluth office estimated that Bayfield County had a couple of inches of snow on the ground when the collision occurred. The meteorologist said the county had about 5 inches as of 6 p.m. Saturday.
The Minnesota State Patrol responded to 401 crashes as of 4 p.m, with 45 of them involving minor injuries, Patrol Capt. Matt Langer said. There were no other immediate reports of fatalities or major injuries.
The storm dumped 11 inches of snow in parts of Eden Prairie, Minn., and 10 inches in the Forest Lake and Mankato areas, said Todd Krause, a federal meteorologist in Minneapolis. The major snowfall activity ended by early afternoon, and Sunday's forecast looked milder, he said.
"People will still see snowflakes across much of Minnesota (on Sunday) but it won't be adding up to anything," he said.
Jack Serier, a commander with the St. Paul Police Department, said officers dealt with 20 to 30 car accidents by about noon, with many of the collisions involving four or five vehicles. Drivers were being careful, he said, but they were skidding on a glaze of ice that developed under much of the snow pack.
"There was nothing reckless," he said. "But when they hit that ice, no matter what they tried to do they spun out of control."
The snow left the football field unusable at Minnesota State-Mankato, prompting the postponement of the school's game against Minnesota Duluth. School officials and conference administrators were considering their options for rescheduling the game.
The football game between Gustavus Adolphus College and Carleton College was pushed back to 1 p.m. Sunday.
Meteorologists said Ashland and Bayfield counties could get 4 to 6 inches of snow on Sunday, while parts of western and north-central Wisconsin could see about an inch.
The snow in both states wasn't expected to stick around for long. Recent warm weather meant the ground is still relatively warm, meteorologists said, and temperatures are expected to be in the mid- to high 30s for the next few days.
Source: The Associated Press