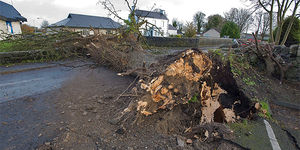 Heavy rain and winds of 140kmh cause havoc nationwide
Stormy conditions rolled right across the country again yesterday afternoon and last night, as strong winds and heavy rain spread in from the Atlantic.
With a severe weather alert issued well in advance by Met Eireann, most areas had done as much as they could in preparation, but winds of 120kmh and heavy rain uprooted trees and caused localised flooding in a number of locations.
The west of the country got the worst of the storm, as the Atlantic coast from Kerry to Donegal was battered by huge swells and gusts of up to 140kmh yesterday afternoon. The coastguard said a record swell of 11.5 metres was recorded in the sea off Valentia.
On dryer land, uprooted trees and fallen telephone lines proved to be a significant concern for motorists, with gardai and the emergency services called out to various locations to deal with traffic disruptions in Donegal, Sligo, Mayo, Galway, Limerick, Westmeath, Louth and Dublin.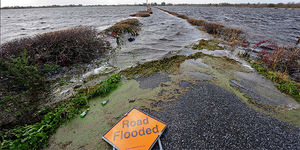 Wires
Up to 10,000 homes were left without electricity in Donegal, Clare and Galway as the winds brought down electricity wires. All but around 1,500 had been reconnected by last night.
And the potential dangers of the strong winds were also spelled out to a photographer in Limerick city, when a large section of heavy roof felt tore off a building and struck his car, forcing him to dash into a nearby alleyway for cover.
Sean Curtin (31) was working on William Street at around 3pm when gale-force winds lifted part of the roof.
"I heard a bang, which I thought was some kind of explosion," Mr Curtin said.
"A lot of people who were on the street looked around too because the noise was so loud. A taxi driver called out to me and said the side of my car had been hit. I'm glad to be here to tell the tale.
On a similar theme, workmen in Galwy city erecting hoardings for the inaugural continental-style Christmas market had to work frantically to secure various timber structures.
Elsewhere, mourners attending the funeral of a man killed in a horror road crash escaped injury when a large tree fell in a church car park yesterday.
A storm brought the tree down about an hour after the funeral of Alan Howard (36) at the Church of the Assumption and Saint James in Claregalway.
Mr Howard died when his van was involved in a crash with a busload of students on Sunday night on the N17 Galway-Tuam road.
Others who were at the mercy of the elements included the country's fishermen, with fishing boats running to shelter ahead of the storm yesterday morning, despite November traditionally being an important month for catches ahead of Christmas.
"Huge waves can be whipped up by high seas," said Chris Reynolds of the Irish Coast Guard.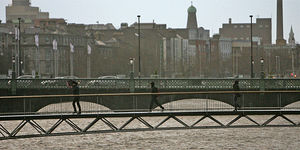 "These can pose hazards to anyone close to the shoreline. Rough seas are often the cause for capsizing fishing vessels. And some of these accidents can take place so quickly there is no time for the crew to send out distress signals."
Gardai and Irish Water Safety also issued repeated warnings for the public to stay away from promenades and seaside walks where rough seas were lashing the coastline.
As the storm moved across the country, the flooding in Limerick and Donegal was replicated in Roscommon and Westmeath, with Irish Farmers' Association spokesman Sean Flynn describing the situation as "a disaster", with farmland north of Athlone under a couple of feet of water as the Shannon overflowed.
"The AA and the gardai are advising drivers to be very careful on the roads," said Nicola Hudson of AA Roadwatch.
"The high winds mean you could meet an obstacle -- like a fallen branch, a road sign, a wheelie-bin -- just about anywhere. The next bend in the road could be lethal."
The storm also resulted in a number of ferry cancellations.
Gerald Fleming, head of forecasting at Met Eireann, said winds would moderate considerably towards dawn today, when the clean-up can begin.
Brian McDonald and Barry Duggan contributed to this article.