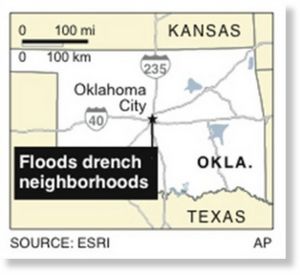 Evacuations are under way in some Oklahoma City neighborhoods, Mayor Mick Cornett said Monday. People there are dealing with vicious flash-flooding and scattered power outages as more thunderstorms head their way.
CNN meteorologist Jacqui Jeras said the damage Monday morning was caused by "backbuilding thunderstorms," a series of heavy rain cores without intermittent periods of let-up. After an early afternoon respite, CNN meteorologist Sean Morris said, Oklahoma City is again under a severe thunderstorm watch, as more storms head toward the rain-soaked metropolitan area. However, Morris said the newer storms are aiming south and east of the areas deluged the most Monday morning.
The National Weather Service said almost 10 inches of rain fell between 2 and 11 a.m. A flash flood watch was extended across central Oklahoma through 7 a.m. CT Tuesday.
According to the National Weather Service, an average of 1 to 2 more inches of rain was likely across the region through Monday night, with locally higher amounts.
Tim Hartley of Oklahoma Gas & Electric said that about 4,000 customers were without power.
It's a "bad situation throughout the entire county," said Oklahoma County Sheriff's Office spokesman Mark Myers.
CNN affiliate KOCO reported that portions of Interstate 35, Interstate 40 and Interstate 44 in the Oklahoma City area had flooded.
"We always pride ourselves on being able to handle large amounts of rain. This is a rare case," Cornett said.
Oklahoma City Police spokeswoman Kristy Yager said officers are trying to manage stalled vehicles, barricade flooded streets and help people. "Areas that have never flooded before are flooding now," she said.
Glynda Chu, a police spokeswoman in nearby Edmond, said it was the worst flooding that city has seen in 25 years.
CNN iReporter Jennifer Oliver, who lives in Edmond, says there's normally a little creek with a 20-foot waterfall behind her house, but by late morning, she couldn't even make it out. "Never seen anything quite like that," Oliver said.
KOCO broadcast pictures of a car submerged almost to its windows. Dive teams navigated the raging waters to get to the scene and then rescued the car's occupants by boat. CNN affiliate KFOR showed another water rescue, with crews ferrying people to safety.
It's a dangerous situation for rescue crews as well. CNN affiliate KWTV showed gripping video of a woman trapped in a tree, struggling through the rushing water in search of stronger branches to hold. Oklahoma City Fire Battalion Chief Kirk Wright said the first rescue boat sent her way got stuck, stranding the three would-be rescuers. Another team set off for the scene and returned safely with all four people.
Oklahoma City Fire Department Deputy Chief Marc Woodard estimated that there were 20 to 30 rescues of people stranded in cars, homes or businesses Monday morning.
Kyla Campbell of the Oklahoma Red Cross said the organization is advising people to be cautious and stay indoors to avoid incidents such as those seen on television. The Red Cross says it is standing by to provide shelter if needed.
Both Yager and Campbell expressed concern about the residential area of Ski Island, which contains a lake. Woodard said there's been a voluntary evacuation of the neighborhood.
CNN iReporter Sarah Burris, who lives on the northwest side of Oklahoma City, said leaving her neighborhood wasn't even an option, with every way out under water. Burris said backlogged drains were regurgitating water into the streets.
The National Weather Service was issuing flood warnings across the breadbasket region. Most of Nebraska and southeastern Kansas were under advisories Monday afternoon. The Weather Service said 3 inches of rain had fallen in both Tulsa, Oklahoma, and Kansas City, Missouri, which experienced flash floods Monday morning. But CNN meteorologist Morris said the Kansas City overflow had affected only low-lying areas and didn't look like a threat to homes or businesses.