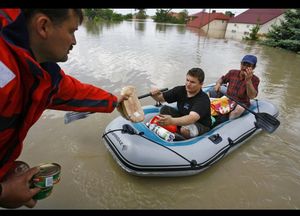 Central and Eastern European countries were struggling Wednesday to cope with floodwaters swamping a host of towns and rivers. In Poland, high waters claimed a sixth life as parts of Krakow were overwhelmed.
Parts of Eastern and Central Europe succumbed to heavy flooding on Wednesday as emergency services scrambled to rescue stranded people and minimize collateral damage in towns.
Areas in Poland, Hungary, Czech Republic, Slovakia and Serbia were reportedly hit by the flooding caused by heavy rains. The Vistula River broke its banks at Krakow reaching a height of nearly 10 meters (33 feet), its highest level in 40 years.
Some 500 people were reportedly evacuated from the Polish city when flood barriers overflowed Tuesday night and Wednesday morning.
The body of a 67-year-old man was found Wednesday near a stream near Bielsko-Biala, in Poland's Silesia province, news agency dpa reported, bringing the death toll from the flooding in that country to six. Some bridges in the region have reportedly been washed away, and many roads closed.
Polish Prime Minister Donald Tusk traveled to flood-hit regions in his country, commenting that emergency services were not up to scratch.
"I am here only to make sure that aid services are working," he said. "People have told me they've only received support once I've announced my arrival, and that even on that day things were still absolutely chaotic. I cannot accept this."
Waters reach Auschwitz
Water was also seen on the floor at the former Nazi concentration camp at Auschwitz, Polish broadcaster TVN 24 reported. The camp, now a memorial museum, said it had taken measures to protect its collections and archives.
Germany and France sent high-power pumps to Poland to help the country cope with the floodwaters, European Union officials said Wednesday.
In Hungary, thousands of emergency workers worked throughout the night piling sandbags to divert floodwaters away from the town of Edeleny.
In northeastern Czech Republic, flooding began to recede Wednesday after claiming the life of an elderly woman earlier in the week. The country's main energy provider, CEZ, said authorities now had to be mindful of the risk of mudslides resulting from the high waters.
There were also fears of flooding in the German state of Brandenburg, which borders Poland. Brandenburg Environment Minister Anita Tack told broadcaster Radioeins there was a chance high waters could reach the state by Friday.