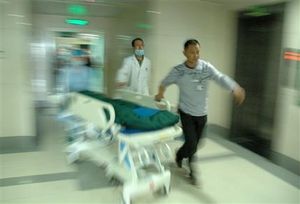 An attacker with a cleaver hacked to death seven children and two adults at a kindergarten in northwest China on Wednesday, the latest in a string of savage assaults on the country's schools. Eleven other children were wounded.
The killer, 48-year-old Wu Huanming, returned home after the attack on the outskirts of the city of Hanzhong and committed suicide, the local government reported. A motive wasn't known, although reports indicated he and the school administrator may have known each other.
It was the fifth such major assault on young students in China since late March
and occurred despite increased security at schools countrywide, with gates and security cameras installed and additional police and guards posted at entrances.
The latest deaths were sure to fuel speculation about why assailants - usually lone males - are targeting schools. Sociologists say it reflects a lack of support for the mentally ill and rising stress resulting from huge social inequalities in China's fast-changing society.
The attack began at about 8:20 a.m., as children were arriving at the private Shengshui Temple Kindergarten in Hanzhong's Nanzheng county, the government statement said. The area is on the city's rural outskirts in a relatively poor part of the country.
Wu killed the school's administrator Wu Hongying and a student on the spot, then hacked at 18 others, the statement said. Six students and Wu Hongying's mother later died in hospital, it said. None of the 11 others hospitalized was in immediate danger, it said.
Wu is a common Chinese surname and it wasn't clear if the assailant and administrator were related.
A Nanzheng county resident reached by phone said crowds had gathered outside the kindergarten, but information was spotty. The government statement and the resident both said Wu Huanming had rented the kindergarten property to Wu Hongying.
"I saw him (the attacker) before and he looked quite normal," said the man, who would identify himself only by his surname, Li.
The ages of the seven children killed were not disclosed, but kindergarten students would typically be 5 years or less. The official Xinhua News Agency said they were five boys and two girls.
Early reports on Wednesday's attack were removed from Chinese Web sites or moved from the home page to inside sections, an apparent attempt to play down the incident. There was no mention of it on state television's national noon news report.
Some experts previously have warned that prominent media coverage can inspire copycat attacks.
State media has also steered clear of examining what might be motivating school attackers, preferring to focus on increases in security.
The government has sought to show it has the problem under control, mindful especially of worries among middle-class families who, limited in most cases to one child due to population control policies, invest huge amounts of money and effort to raise their offspring.
The Hanzhong city government statement said all departments had been mobilized to save the wounded, find out how the attack occurred and ensure safety at all schools and kindergartens.
"Leave no stone unturned, learn from the mistakes, and strictly ensure nothing happens like this again," the statement said.
The city government earlier reported that about 2,000 police officers and security guards had been detailed to patrol public schools, kindergartens and surrounding areas beginning last week. The city in Shaanxi province has a population of nearly 4 million.
The string of school assaults began with an attack on a primary school in March in the city of Nanping in Fujian province where eight children were slashed to death by a former community clinic doctor with a history of mental health problems.
The man convicted for that crime was executed on April 28, the same day a 33-year-old former teacher broke into a primary school in the southern city of Leizhou in Guangdong province and wounded 15 students and a teacher with a knife.
The following day in Taixing city in Jiangsu province, a 47-year-old unemployed man armed with an 8-inch (20-centimeter) knife wounded 29 kindergarten students - five seriously - plus two teachers and a security guard.
Just hours later, a farmer hit five elementary students with a hammer in the eastern city of Weifang before burning himself to death.