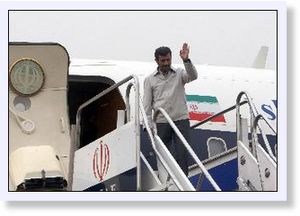 Iranian President Mahmoud Ahmadinejad says nuclear weapons have posed "the single greatest threat" to the world for more than sixty years.
Before embarking on his trip to New York early on Sunday, Ahmadinejad told reporters that the possession of an atomic bomb has become "an instrument to serve the hegemonic and expansionist interests of a select few."
"Under the pretext of nuclear non-proliferation, certain countries exert political pressure on those merely seeking to pursue peaceful enrichment activities," said the Iranian president.
Ahmadinejad added that Iran has some practical proposals with regards to reviewing the 40-year-old Nuclear Non-Proliferation Treaty (NPT) which should be considered by the International Atomic Energy Agency (IAEA).
He went on to say that the IAEA has failed to fulfill its main obligations over the past four decades. One of the obligations the IAEA has failed to meet, Ahmadinejad said, was the disarmament of all nuclear-armed states.
"The UN nuclear agency has fallen short of its commitments over the past 40 years. During this period we have witnessed no progress in the disarmament process as certain countries continue to develop nuclear weapons and test atomic bombs," he explained.
Ahmadinejad, who is scheduled to attend the 2010 NPT Review Conference at the United Nations headquarters, left for New York at the head of a high-ranking delegation.
Iranian Foreign Minister Manouchehr Mottaki, senior Presidential Advisor Mojtaba Samareh Hashemi, Chief of Staff Esfandiar Rahim-Mashaei, and the Head of Iran's Atomic Energy Organization Ali Akbar Salehi will accompany Ahmadinejad during the visit.
The conference, which will run from May 3 to May 28, aims to monitor the global progress in fulfilling disarmament obligations set out in the NPT.