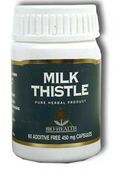 The herbal supplement milk thistle may prevent liver damage in people undergoing chemotherapy, according to a new study conducted by researchers from Columbia University Medical Center and published in the journal
Cancer
.
Researchers conducted the study on 50 children undergoing a "maintenance" round of chemotherapy for acute lymphoblastic leukemia (ALL), a type of blood cancer. Approximately two-thirds of all children undergoing treatment for ALL usually develop liver toxicity during their treatment, presenting doctors with the choice between scaling back the treatment and risking a resurgence of the cancer, or continuing with treatment unaltered and risking permanent liver damage and lifelong health complications. There is currently no known way of preventing liver toxicity in chemotherapy patients.
Study participants were assigned to take either a milk thistle pill or a placebo capsule for one month. At the start of the study, all 50 children were suffering from liver inflammation due to prior rounds of chemotherapy. By the end, children taking milk thistle had significantly lower levels of two liver inflammation markers than children taking a placebo.
Milk thistle has been used for more than 2,000 years as an herbal treatment for liver and gallbladder problems. Although researchers have looked for evidence that the herb might help prevent or even treat liver damage in people with hepatitis or cirrhosis, results have been inconclusive.
However, recent studies suggest that milk thistle contains an active antioxidant known as silybin that might help block toxins from breaching cell walls.
Milk thistle supplements are already sold over the counter. Striking a cautionary note, however, senior researcher Kara M. Kelley noted that further research is needed before the plant can be recommended as a treatment. She advised against patients self-medicating with milk thistle, noting that all patients undergoing treatment for cancer should always check with their doctors before taking any new kinds of supplements.