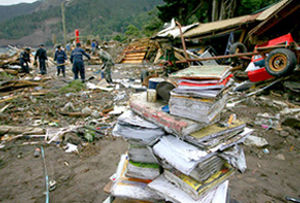 A 12-year old girl has saved almost the entire population of Robinson Crusoe Island off the coast of Chile from a strong tsunami.
The inhabitants of the small island were asleep as a massive tsunami, initiated by the February 27 earthquake, was about to reach the coast.
According to reports in the Chilean media,
Martina Maturana felt the first slight tremors whilst everyone was asleep on Robinson Crusoe Island
, in the Archipelago of Juan Fernandez, 700 kilometers off the country's coast.
She warned her policeman father about what she felt. In a contact with relatives in Valparaiso in central Chile, they found out that a massive earthquake had struck the country just minutes before.
Martina then saw fishing boats moored in the tiny harbor sea bob in a strange way. She ran 400 meters from her home to the town square to sound the alarm bell and woke 700 inhabitants up from their sleep.
The young girl did not know the emergency codes - two rings for fire, three for landslides - the first residents who awoke by the sound continued playing the bells to warn people to climb up the hills and save themselves.
According to the US Geological Survey, Chile's Saturday earthquake is the fifth-strongest tremor since 1900. The government has raised the toll from Saturday's 8.8-magnitude quake to about 800.