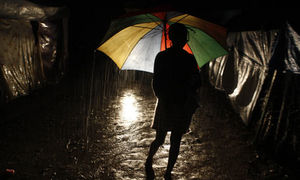 Port-Au-Prince - Flooding and mudslides in southwestern Haiti Saturday killed one person and forced the evacuation of 500 prisoners, officials in this quake-hit nation told AFP.
The deluge occurred in and around Les Cayes, Haiti's third-biggest city, which escaped the earthquake devastation that trashed the capital Port-au-Prince January 12.
Haiti's civil emergency services unit told AFP that one person was killed in the nearby town of Baraderes, according to the local mayor.
It also said 500 detainees in Les Cayes's prison were being evacuated by UN peacekeepers and Haitian police as 50 centimeters (20 inches) of water inundated the facility.
There was up to 1.5 meters (60 inches) of water in Les Cayes, a coastal city on a peninsula 160 kilometers (100 miles) west of Port-au-Prince.
Witnesses said houses had also collapsed.
The natural disaster added to the woes suffered by Haiti after the quake that leveled 70 percent of the capital, killing more than 200,000 people and leaving one million homeless.
It was also a portent of what ravaged Port-au-Prince could face within weeks, when the Caribbean's rainy season will wash over the exposed capital.