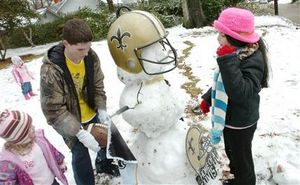 It took back-to-back blizzards to paralyze the nation's capital, but in the Deep South it only takes a couple inches of snow.
Flakes were falling - or threatened - Friday from Texas to the Florida Panhandle and then up along the coasts of Georgia and South Carolina, bringing a rare white landscape to spots that haven't seen snow in a decade or longer. The storm crawled out of Texas, where it left the Dallas area with more than a foot of snow, nearly 200 traffic accidents, thousands without power and hundreds of canceled flights.
Children in cities better known for stifling humidity took to throwing snowballs and building snowmen, while snow dusted the kudzu vines so prevalent in warm Southern climates.
Just the anticipation of an inch of snow was enough to close schools in the Florida Panhandle, while classes also were canceled in parts of Alabama and Georgia. Districts in Louisiana and Mississippi, also closed.
In Century, about 40 miles north of Pensacola, 44-year-old Steve Pace scraped some snow from the hood of his truck and formed a snowball to throw at his 6-year-old grandson, Kaleb. It only snowed for about 10 minutes before giving way to rain again, but it was enough for Kaleb to enjoy a family snowball fight.
"I've only ever seen snow on TV till now," Kaleb said, smiling.
The southern Alabama city of Andalusia had recorded its largest snowfall since 1973 - 2 inches as of Friday morning. The city of 8,800 near the Florida line was getting ready to close its streets because of snow, which no one could remember happening before, said city building inspector Micah Blair.
Lawyer Clay Benson, on his daily Starbucks run, said a lot of clients had understandably canceled appointments at his office in downtown Montgomery, Ala. However, he didn't really think all state offices needed to close down, as most did.
"People from up North laugh at us," he said. "We act like it's Armageddon coming down here when it snows."
In the northwestern Louisiana city of Shreveport, Lamar Methvin, who ran a hardware store for many years and now works at a Home Depot, said the chain ran out of winter supplies before the snowfall because of a recent deep freeze.
"Snow shovels? They don't even know what they are down here," he said, laughing.
Rafael Williams, 8, was walking in the snow through a Jackson, Miss., neighborhood and posing for pictures.
"I love it. It's never been this way before since I've been alive," the 8-year-old said.
Several oceanside communities in South Carolina including Charleston - which hasn't seen recorded snowfall since January 2000 - could see between 2 and 4 inches of snow, said Jonathan Lamb, a National Weather Service meteorologist based in Charleston.
And as much as 3 inches could hit Savannah, Ga., where snow was last traced in February 1996 - only 0.2 inches, Lamb said. It's been two decades since Georgia's oldest city had any notable accumulation, with 3.6 inches falling in December 1989. Normally, temperatures in February don't dip below 41 degrees.
American Airlines canceled about 240 flights Friday, mainly at its hub at Dallas-Fort Worth International Airport, airline spokesman Steve Schlachter said.
The snowfall made this the snowiest winter in the Dallas-Fort Worth area in 32 seasons.
In Atlanta, Delta Air Lines canceled 1,100 flights for Friday in anticipation of as much as 2 inches of snow expected in the region. AirTran also said Friday that it was canceling more than 60 flights in or out of Atlanta. Snow had begun falling downtown by early afternoon.
Brian Segars, a 45-year-old salesman from Dallas, arrived at the Atlanta airport at 1 p.m. Thursday for a 9:30 p.m. flight, only to head back to his hotel eight hours later because of heavy snowfall in Dallas. He finally managed to get a flight to Oklahoma City on Friday and planned to rent a car there and drive six hours in the snow to get home.
"I feel like I am Steve Martin in
Planes, Trains and Automobiles
," he said. "Other than John Candy's underwear in my face, it's almost that bad."
The snow hitting the Deep South comes just a week after the first of back-to-back blizzards hit Washington, D.C. - which ended up with about 28 inches of snow - and along the Eastern Seaboard. Residents are still digging out from those storms, which forced the federal government to shut down for about a week.