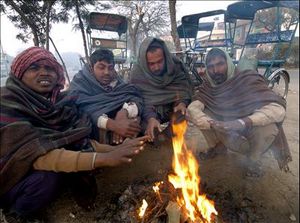 New Delhi--Cold wave claimed 157 lives across north India even as its intensity slightly abated today after the sun came out lifting the fog and raising temperature in parts of Punjab, Haryana and Chandigarh.
The 300-km Jammu-Srinagar national highway, the only road linking Kashmir valley with the rest of the country, reopened after being closed for two days due to heavy snowfall.
Severe cold conditions claimed 37 more lives since last night with Uttar Pradesh alone accounting for 31 deaths. The six other casualties were reported from Bihar.
While five persons each died in Deoria and Maharajganj, four deaths each were reported from Siddharth Nagar and Bhadoi, two each from Pratapgarh, Kushinagar, Basti, Jaunpur and Ghazipur and one each from Lucknow, Sitapur and Muzaffarnagar, taking the toll to 141 in Uttar Pradesh this winter, official sources said in Lucknow.
With let up in snow and rains, night temperature improved in Jammu and Kashmir barring Ladakh region where mercury dipped to minus 18 degrees Celsius in Leh and minus 16.8 deg C in Kargil district. The minimum temperature in Srinagar this morning was 2 deg C, four degrees above normal.
Pahalgam, a hill resort of south Kashmir, recorded a low of minus 2.9 deg C today.
The national capital remained under the grip of intense cold wave as chilly northwesterly winds from the Himalayas considerably brought down the maximum temperature, which was recorded at 14 deg C -- eight degrees below normal. It was the lowest of the season so far.
Minimum temperature climbed to 9.3 deg C after the sun came out giving some comfort to Delhiites reeling under severe cold conditions for the past one week.