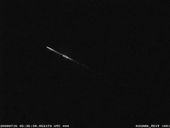 A trail of gold. That's what a Langham women said an apparent meteor left behind when it zipped across the Saskatchewan night sky. Laurie Suiker says she was driving home just before 6:00 Friday evening on Highway 16, near Lutheran Road, when she saw a flash of light. She initially thought it was a shooting star.
"I watched it trail for a tiny bit and then it went, poof !" said Suiker. "And there was this beautiful golden shower. It wasn't huge. It was way up there, but it was pretty beautiful."
Suiker described the flash for her husband, Chris, and compared it to the meteor sighting in November of 2008 near the Alberta/Saskatchewan border (Flash pictured right).
"It was not even close to that, but it was still pretty nice to see. It didn't light up the whole sky or anything. I watched (the trail) for about four minutes."
Meantime, one astronomy enthusiast said Suiker's sighting isn't surprising. Gary Stone, former president of the Royal Astronomical Society in Saskatoon,said the Earth always passes through comet debris this time of year.
"Being that it's near the peak of the Geminid meteor shower, it's quite likely it's an early one." said Stone. He added people should look to the Saskatchewan sky this weekend, as they could see quite the show in throughout Sunday morning, evening, and Monday morning. He's expecting to see 120 to 140 meteors an hour at the peak, most no bigger than a kernel of corn, but still visible to the naked eye.