People from all over the Mountain West reported a "bright light" or "meteor streak" around midnight Wednesday morning.
Reports are coming in from Eastern and Southern Idaho, all throughout Utah and even Las Vegas.
Several viewers called into the Local News 8 newsroom reporting the bright light which lasted for just a few seconds.
Some have reported it as a "ball of light" and others called to say it looked more like a "green streak."
Media outlets in Salt Lake City report that some even felt a "slight rumble" or "sonic boom."
ABC sister station KTVX talked to NASA and Solar System Ambassador Patrick Wiggins.
Wiggins told KTVX that it was a meteor also known as a bolide. From his observatory near Stansbury Park, Utah, he said the break up of the meteor occurred at about 240 to 250 degrees azimuth which puts it just north of southwest.
He also heard the sound of an explosion that would put the breakup of the bolide about 100 km in that direction placing it high above Granite Peak in the west desert of Utah.
- -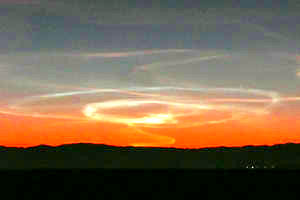 Watch Twitter video from Utah: