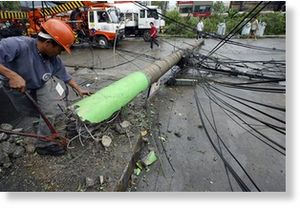 Tropical Storm Mirinae slammed into Vietnam's central coast Monday, unleashing heavy rains and winds and forcing more than 80,000 people to evacuate before losing steam as it moved inland.
The storm was packing winds of 63 miles per hour (102 kilometers per hour) as it made landfall in Phu Yen province Monday afternoon, toppling trees and utility poles and causing blackouts, said Nguyen Ba Loc, deputy chairman of the provincial People's Committee.
The storm lost force and was downgraded to a tropical depression as it moved deeper inland later Monday, according to the national weather forecast center.
No deaths were reported, but the weather center warned of possible flash floods and landslides in mountainous districts.
Mirinae hit the Philippines with typhoon strength over the weekend, killing 20 people before losing strength as it moved across the South China Sea toward Vietnam.
Both Vietnam and the Philippines are still recovering from Typhoon Ketsana, which brought the Philippine capital of Manila its worst flooding in 40 years when it struck in September. Ketsana killed 160 people in Vietnam.
In the Philippines, Ketsana and two later storms killed more than 900. Some 87,000 people who fled the storms were still living in temporary shelters when Mirinae struck.
Mirinae left 20 dead, mostly from drowning, in six Philippine provinces. Four people were missing, disaster response officials said.
But the storm did not keep the largely Roman Catholic country from paying respects to the dead on Sunday's All Saints Day. Huge crowds jammed cemeteries, with some people visiting still-flooded ones by boat.
In Rizal province, just east of Manila, villagers carrying flowers and candles paddled canoes into a rural cemetery that resembled a lake.
Joel Librilla thrust his hands into the waist-high waters to feel the letters on submerged tombstones in search of his mother's grave.
"We don't know where to light our candles," Librilla told AP Television News. "But my mother should know that this is for her."
Forecasters said they were watching a low pressure area about 186 miles (300 kilometers) off the eastern coast of the northern Philippines that along with northeastern monsoon winds could bring rain and gale-force winds to the mountainous region.
Strong winds and huge waves destroyed three fishing boats and overturned about a dozen others off northern Cagayan province early Monday, tossing 39 fishermen to the rough sea, Cagayan disaster official Bonifacio Cuarteros said.
Most of the fishermen swam back to shore or were rescued by fellow fishermen. One remained missing, Cuarteros said.