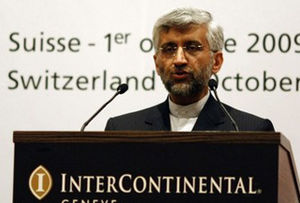 Iran's chief nuclear negotiator Saeed Jalili says all nations should have the right to peaceful nuclear technology.
He told a press conference in Geneva that Iran will not abandon its nuclear right, urging world powers to respect each country's right to peaceful nuclear energy.
"We are committed to our commitment in the framework of the NPT (Nuclear Non-Proliferation Treaty), and at the same time we will go ahead and stick to our nuclear rights in the framework of the NPT," Jalili said after his talks with six world powers on Iran's nuclear drive.
Jalili also emphasized that the world needed to get rid of nuclear warheads, adding that the Islamic Republic believes no country should have such armaments.
"No one should have nuclear weapons,"
said Jalili.
Iran's chief negotiator reiterated as well that "there must be a balance between rights and obligations".
Referring to his negotiations with the representative of the P5+1 group, Jalili added, the talks created an opportunity to remove concerns on the issue.
"We had broad talks. This meeting created a good opportunity for fresh cooperation to remove international concerns," he said.
Jalili added that the two sides reached an agreement to continue talks "on a common ground".
The representatives from Iran and the six world nuclear powers ended their talks in Geneva on Thursday and agreed to meet again before the end of October.
A meeting at the level of deputy heads is also planned before the two sides meet by the end of this month.
"There has been a stop in discussions since July 2008, but I do not have the feeling that the discussions would stop, rather they will continue," he added.
On the sidelines of the talks, Jalili and the US envoy, William Burns, held what amounted to the highest level of discussions between the two countries in the past 30 years.
"We believe that today the capacity and power of the Islamic Republic of Iran especially in the region and in the international arena is an opportunity for those countries that want to work with us," Jalili said after he asked about his talks with Burns.
"We voice our readiness to cooperate with all parities" to resolve problems facing the world, Jalili stressed.
The chief negotiator went on to say that Iran has fulfilled all its nuclear obligations and informed the International Atomic Energy Agency (IAEA) of its new uranium enrichment plant one year ahead of schedule.
Iran, on September 21, informed the agency that it was constructing an enrichment plant in Fordu, south of the capital Tehran. The plant will be used as a backup facility to Iran's first enrichment facility in Natanz.
Jalili also referred to sanctions imposed on Tehran over its nuclear activities and said, "countries imposing sanction (on the Islamic Republic) will suffer more than Iran."
The International Atomic Energy Agency (IAEA) has confirmed non-diversion of Iran's nuclear activities, he added.