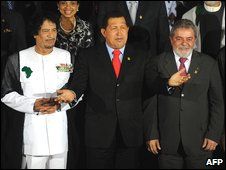 The leaders of Libya and Venezuela have called on Africa and South America to create a new alliance to counter Western dominance.
They were speaking at the second South America-Africa (ASA) summit held in the Venezuelan island of Margarita, attended by nearly 30 leaders.
Venezuela's Hugo Chavez called on the two continents to unite to secure prosperity for future generations.
Libya's Muammar Gaddafi said he was in favour of a military-style pact.
The summit agenda covers hunger in Africa, the global economic crisis, energy, and the creation of a joint investment fund between Africa and South America.
The leaders agreed to launch a new development bank for South America, the Banco del Sur, with an initial start up investment of $20bn.
Nato of the South
President Chavez also offered to create a "South-South bank" with African nations in the future.
During his address at the summit, Col Gaddafi said Western countries wanted to hold on their to power.
"When they had the chance to help us, they treated us like animals, destroyed our land. Now we have to fight to build our own power."
Col Gaddafi proposed a defence alliance of South American and African nations, calling it "a Nato of the South".
The political crisis in Honduras is expected to figure prominently at the meeting, especially in bilateral talks between the Latin American leaders.
Other attending leaders include Argentina's President Cristina Fernandez, Robert Mugabe of Zimbabwe, Algeria's Abdelaziz Bouteflika, Chile's Michelle Bachelet and Bolivia's Evo Morales.