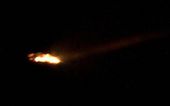 An amateur astronomer has captured pictures that appear to show a UFO hovering over Devon.
Lee Betts, 29, spotted the glowing red shape hovering 1,000ft up in the night sky from his bedroom window.
The object moved across the sky for more than an hour on Monday evening before shooting off into the distance.
Mr Betts, of Newton St Cyres near Exeter, said he watched the unidentified object through a telescope before taking the pictures at 9pm.
He said: ''I couldn't believe it at first. The shape was about 100ft long and there were four lights coming from it initially.
''The shape moved slowly and it seemed to pivot on a central axis. Then, without warning, a sudden flash of light like a shooting star went across the sky.
''It was very strange. I have been an amateur astronomer for the past three years and I've never seen anything like it before. It's unexplained.''
A police spokesman said they had not received any reports of a UFO sighting in Devon.