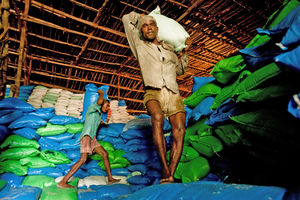 Some of America's biggest food companies say the U.S. could "virtually run out of sugar" if the Obama administration doesn't ease import restrictions amid soaring prices for the key commodity.
In a letter to Agriculture Secretary Thomas Vilsack, the big brands -- including Kraft Foods Inc., General Mills Inc., Hershey Co. and Mars Inc. -- bluntly raised the prospect of a severe shortage of sugar used in chocolate bars, breakfast cereal, cookies, chewing gum and thousands of other products.
The companies threatened to jack up consumer prices and lay off workers if the Agriculture Department doesn't allow them to import more tariff-free sugar. Current import quotas limit the amount of tariff-free sugar the food companies can import in a given year, except from Mexico, suppressing supplies from major producers such as Brazil.
While agricultural economists scoff at the notion of an America bereft of sugar, the food companies warn in their letter to Mr. Vilsack that, without freer access to cheaper imported sugar, "consumers will pay higher prices, food manufacturing jobs will be at risk and trading patterns will be distorted."
Officials of many food companies -- several of which are enjoying rising profits this year despite the recession -- declined to comment on how much they might raise prices if they don't get their way in Washington.
The letter is the latest salvo fired in a long-simmering dispute between U.S. food companies and the sugar industry over federal policy that artificially inflates the domestic price of U.S.-produced sugar in order to support the incomes of politically savvy sugar-beet farmers on the Northern Plains and cane-sugar farmers in the South. Most years, the price food companies pay for U.S. sugar is twice the world level.
Ron Lucchesi, head of procurement for Gonnella Frozen Products in Chicago, which signed the letter, said current U.S. sugar policy distorts pricing. Though sugar accounts for only 0.5% of total costs at Gonnella, soaring sugar prices are "part of the equation" that already has led the company to raise prices for kaiser rolls, hamburgers and hot dogs, all of which include sugar.
The issue is coming to a boil again because sugar prices, both in the U.S. and globally, have soared to unusually high levels for more than a year and show little sign of easing any time soon. Prices of sugar futures contracts have risen 95% so far this year, hitting a 28-year high in recent days. On Wednesday, raw-sugar futures jumped 4.8% to 22.97 cents a pound at the Intercontinental Exchange.
Prices are up because the world is consuming more sugar than farmers are producing. One big factor: The world's largest sugar producer, Brazil, is diverting huge amounts of its cane crop to making ethanol fuel. Likewise, the food industry has complained bitterly in recent years about the U.S. ethanol industry's ravenous appetite for corn, which helped push up prices for that key ingredient too.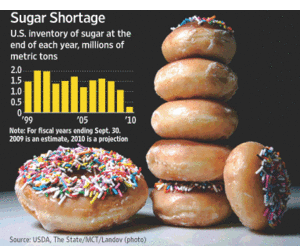 More than half of Brazil's sugar-cane crop is processed into ethanol while about one-third of the U.S. corn crop is made into the alternative fuel. An erratic monsoon season in India also has led sugar analysts to reduce their production forecasts for the world's second-largest sugar producer.
At the same time, U.S. sugar supplies are tight. In its monthly report on global farm markets released Wednesday, the Agriculture Department said it expects U.S. sugar supplies by September 2010 to drop 43% from this fall.
According to USDA estimates, the food industry will import about 1.4 million tons of sugar under the tariff-rate quota system during the crop year that ends in late September.
An economist for the Sweetener Users Association, a food-industry trade group, said Wednesday that food executives want to be able to import an additional 450,000 tons of tariff-free sugar by Sept. 30.
As a percent of input costs, sugar varies for food companies. It is about 1%, 8% and 6%, respectively, of the costs for ConAgra Foods Inc., Hershey and Kraft, according to a recent report by Barclays Capital analyst Andrew Lazar.
It's far from clear whether the Obama administration will move to increase the flow of foreign sugar into the U.S. anytime soon. The Agriculture Department released a statement saying it will "continue to review market conditions to ensure...an appropriate safety net for growers" as well as "a stable supply environment."
Earlier this month, Agriculture Undersecretary Jim Miller told a sugar-industry gathering in Utah that he wouldn't rule out a quota increase in the future. However, such a move would probably be politically unpopular among sugar farmers, who have a big voice in Washington through Rep. Collin Peterson, the Minnesota Democrat who is chairman of the House Agriculture Committee. Mr. Peterson, whose district is home to many sugar-beet growers, couldn't immediately be reached for comment Wednesday.
Phillip Hayes, a spokesman for the American Sugar Alliance, a trade group of cane and sugar-beet farmers, said farmers are "absolutely opposed" to expanding the sugar-import quota in part because it would cause the prices received by U.S. growers to sink.
Jack Roney, the alliance's chief economist, said food companies probably wouldn't pass along any savings to consumers from a widened import quota. But each one-cent drop in the price of sugar costs U.S. farmers about $160 million, he said.
"We take offense at any notion of reducing producer prices for sugar having any benefit for consumers, because historically we've never seen any pass-through of lower commodity prices of ingredients," he said. "It really is a profit-increasing opportunity for user companies."
Some big brands aren't jumping into the sugar fight. The big U.S. beverage companies, for example, didn't sign the letter to Mr. Vilsack. Although Coca-Cola Co. and PepsiCo Inc. use sugar in their international beverage business, both companies generally rely on high-fructose corn syrup to sweeten drinks in the U.S., their biggest market.
Coke, of Atlanta, said it hasn't yet felt the impact of the sugar price rise because of continuing hedges on commodities. PepsiCo, the Purchase, N.Y., food and beverage giant, declined to comment.