Peter Sissons, the veteran newsreader who announced his retirement last month, has launched a withering attack on the BBC - claiming standards have fallen and accusing producers of being too mired in political correctness to do anything about it.
Writing in The Mail on Sunday today, he says: 'At today's BBC, a complaint I often heard from senior producers was that they dared not reprimand their subordinates for basic journalistic mistakes - such as getting ages, dates, titles and even football scores wrong - it being politically incorrect to risk offending them.'
Mr Sissons, 66, who has worked for the BBC, ITV and Channel 4, says there was 'great attention' to the text of news bulletins when he joined the Corporation 20 years ago, but that now appeared to be lacking.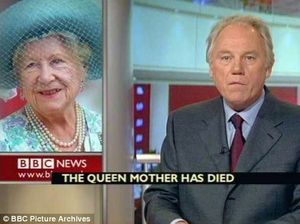 In a wide-ranging attack, he also claims it is now 'effectively BBC policy' to stifle critics of the consensus view on global warming. He says: 'I believe I am one of a tiny number of BBC interviewers who have so much as raised the possibility that there is another side to the debate on climate change.

'The Corporation's most famous interrogators invariably begin by accepting that "the science is settled", when there are countless reputable scientists and climatologists producing work that says it isn't.

'But it is effectively BBC policy... that those views should not be heard.'
He also takes a swipe at BBC executives for failing to defend him when he was criticised for wearing a burgundy tie on the day the Queen Mother died in 2002. He says a senior executive urged him to wear the burgundy tie, but that the BBC then said it had been his own choice.
The reaction of BBC 'top brass' to coverage of the death of Princess Diana also rankles.
'We did a lot to be proud of that day,' he says. 'Some weeks afterwards, the top brass took themselves off to a Cambridge hotel to congratulate each other. None of the footsoldiers who actually made the programmes was invited.'
Mr Sissons once accused the BBC of ageism, saying he had attended 'too many' leaving parties for people over 50.