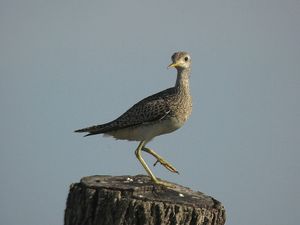 What an odd month this has been for bird comings and goings.
Last week, Jerry Talkington found two whimbrels in a field in Fairport Harbor. The sightings were unprecedented for the date in Northeast Ohio, according to "
The Birds of the Cleveland Region
."
Were they late northbound migrants on the way to their Arctic nesting grounds? Or early fall migrants headed south?
At the same time, upland sandpipers -- a grassland species that had all but abandoned Ohio over the past 30 years -- suddenly appeared at three separate locations in Mansfield, Champaign and Harrison counties.
For the second consecutive year, yellow-crowned night herons are nesting in a neighborhood in Bexley, just east of Columbus.
The hottest birder buzz last week was over several sightings of one or more Mississippi kites in Worthington, just north of Columbus. The reports came a year after the state's first-ever nesting of kites at a golf course in Hocking County.
Then on Saturday morning, I was awakened to a familiar song coming from a hemlock outside my bedroom window. It was a white-crowned sparrow, a common visitor to my yard in April and May, but never before in the middle of June, when the "Birds of the Cleveland Region" tells us that white-crowneds are "occasional" and "not to be expected."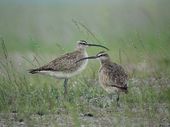 The white-crowned spent the day singing and feeding on sunflower seeds in my Lakewood back yard, but was gone by the next day.
What is going on here?
A simple explanation would be that the changes are somehow linked to global warming. Except that the eastern Arctic is experiencing its coldest spring in more than 50 years. The prolonged snowy conditions, with 6-foot snowdrifts lingering in Churchill, Manitoba, could all but doom the breeding season for migratory birds this year, Robert Alison, a wildlife biologist, reported recently in the
Winnipeg Free Press
.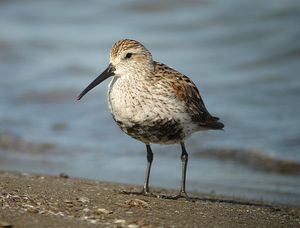 Is that why the white-crowned sparrow, whimbrels and upland sandpipers were here last week instead of on their northern nests raising chicks? Only the birds knew for sure.
"This could have a perceptible impact on what we see here in Ohio,"
Kenn Kaufman
wrote in a post to Ohio Birds over the weekend.
This holds especially true for shorebirds such as Hudsonian godwit, short-billed dowitcher, dunlin and greater yellowlegs, he said.
"Based on what's happening in the eastern Canadian Arctic, it's quite possible that we'll see adults of [dowitchers and yellowlegs] showing up earlier than normal as they give up on any possibility of breeding, and that numbers of juveniles will be sharply reduced from normal," Kaufman wrote.
Although they appear to contradict each other, scientists say that such major temperature swings are a byproduct of global warming.
"For awhile at least this will be the shape of things to come," said Thomas Karl of the National Climate Center in Canada.
Sightings
A merlin flew over the lake to harass a bald eagle while John Pogacnik was surveying property in Lake County.
Marie and Al Schempp watched a barred owl pounce on a chipmunk in their Chester Township back yard.
A worm-eating warbler was on territory in the Cuyahoga Valley National Park along the Old Carriage Trail between Jaite and Station roads, Bryn Roberts said.
Summer tanager and Canada warbler were highlights of a walk at the Ledges section of the CVNP, Gabe Leidy said. Dwight and Ann Chasar reported a prairie warbler on territory south of the park headquarters at the Jaite site.
At least five hermit thrushes were singing on Little Mountain in the Holden Arboretum, Haans Petruschke reported.