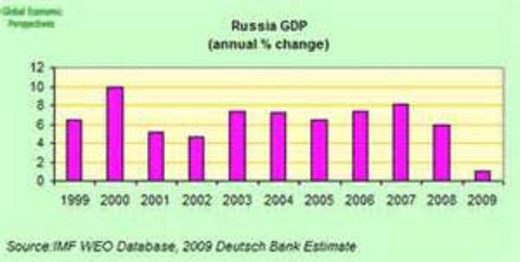 The recession in Russia will run deeper and longer than it appeared even a few months ago, the World Bank concluded in a report released Wednesday, underscoring the impression that Russia has been one of the countries hit hardest in the downturn.
The Russian economy, which seesaws from boom to bust along with commodity prices in the best of times, has experienced the most extreme swing from growth to contraction of any large economy in the current downturn.
The bank's new projection showed that the Russian economy would contract by 7.9 percent this year and not recover to precrisis levels until at least 2012. Just before the crisis reached here, in the first quarter of 2008, Russia had been growing at an annual rate of 8.7 percent.
The bank's estimate was all the more remarkable because oil prices have recovered recently, a positive sign for resource-dependent Russia. About two-thirds of exports, for example, are made up of oil and natural gas. Yet the International Monetary Fund, the Russian government and private banks all project slower growth.
The World Bank's prediction on the timing of Russia's recovery means nearly half a decade will be lost, Zeljko Bogetic, the bank's chief economist in Russia, said at a presentation of the report.
"The economic downturn and social impact has so far been larger than expected," he said.
As recently as April, the bank had predicted a decline of 4.5 percent.
As the global recession deepened last winter, Russia spent about $200 billion, or a third of its precrisis foreign currency reserves, defending the ruble during a gradual devaluation. This spring the tables quietly turned as oil prices rose, and the Russian Central Bank has made back about $30 billion since March by intervening to prevent the ruble from appreciating, the report said.
Yet other factors are weighing on Russia's prospects, the World Bank report said. A swoon in domestic demand, worse-than-expected global growth, tight credit and declining infrastructure investment are taking a toll, it said.
The report did note some signs of recovery in Russia's economy, including earnings for companies and the budget from the higher oil prices.
Still, because of the worsening outlook, millions of Russians will slip back into poverty, the bank predicted. The percentage of the population living in poverty, which had been on the decline for the last decade as Russia seemed to put its post-Soviet economic woes behind it, will rise again. The bank projected Russia would end the year with 17.4 percent of the population, or about 24.6 million people, living in poverty.
Russian policy makers, the report said, would increasingly find themselves performing a "balancing act" of maintaining macro-economic stability while meeting growing demands for social spending as poverty spreads.