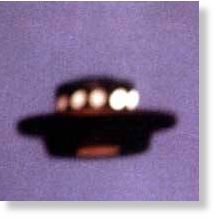 Spalding is possibly becoming the English version of Roswell after a resident reported yet another UFO sighting.
A strange, football-shaped phenomenon emitting an orange light was spotted flying eerily above the Queen's Road area at around 10pm on Saturday night.
It was first spotted by Connor Pickering (7), who told dad Darren what he had seen and pretty soon the whole family were out taking a look.
Darren said: "At first Connor thought it was a shooting star and it was certainly moving at some rate and making no sounds whatsoever.
"It was going in the direction of Holbeach Marsh. It was definitely not an aircraft and it wasn't a Chinese Lantern."
Mr Pickering's sighting is the latest in a long line of UFO claims from Spalding residents.
Just two weeks before, orange lights were seen flying over the Patriot Close area of Spalding, however it later turned out that these actually were down to Chinese Lanterns.